NI Secretary Karen Bradley to meet Irish language groups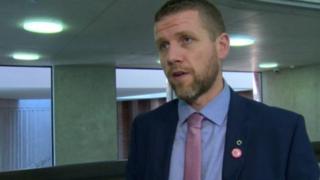 Campaigners for an Irish Language Act are to meet Northern Ireland Secretary Karen Bradley later on Thursday.
The creation of an act is seen as one of the most contentious issues in the talks process.
Those campaigning for an act are set to hold a protest on Thursday morning at Stormont, alongside students from Irish language schools.
Activists are due to meet with Mrs Bradley on Thursday afternoon.
Representatives from Conradh na Gaeilge (CnG) will meet with Mrs Bradley, which marks the first time members of this group have held discussions with a Northern Ireland secretary.
Ciarán Mac Giolla Bhéin, spokesperson for Conradh na Gaeilge, said: "There can be no new government, no settlement, and no new political arrangements that facilitate the discrimination and the exclusion of the Irish language community."
One of the other groups involved in the campaign for an act is Irish speakers group Pobal.
Janet Muller, from the group, said: "There will be no value in any act unless it creates a significant number and range of guaranteed rights in political institutions, local authorities, administration of justice, education and media."
Irish language campaigners are expected to be joined by politicians at Thursday's protest.
'Same-sex marriage'
The issue has been a major sticking point in talks to restore devolution at Stormont, with much opposition from the DUP and the UUP.
The DUP's position has always been that the party wants to see "mutual respect for all languages and cultures in Northern Ireland but not one elevated above all others".
Sinn Féin, the SDLP and the Alliance Party have all lobbied for an Irish Language Act.
On Thursday, Mrs Bradley is also to meet members of the Love Equality group who are campaigning for same-sex marriage for Northern Ireland
It is the first time the group has met a secretary of state for Northern Ireland.
Campaigners will tell Mrs Bradley that if the talks fail at Stormont, legislation for same sex marriage in Northern Ireland should be introduced at Westminster.
Declan Meehan, of the Love Equality campaign, said: "This is not imposing anything, but would be a long overdue equality measure which has huge support across Northern Ireland."
Mrs Bradley is to give MPs an update of the talks process on 7 February