Ulster University study highlights student mental health problems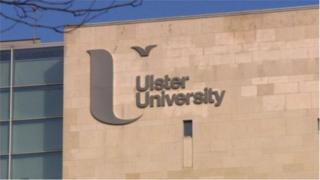 More than half of Ulster University (UU) undergraduates who took part in a major study reported suffering a mental health problem.
That is according to a detailed student wellbeing survey carried out by researchers at the university.
The study involved students who began university in 2015/16 but the results have just been published.
More than four in ten students reported suffering panic attacks while almost a third said they had suicidal thoughts.
A total of 739 students who began their undergraduate degree at the university in 2015 answered detailed questions about their mental health.
'Life transition'
462 were female, 274 male and three were transgender.
Women were significantly more likely than men to report mood and anxiety problems and suicidal thoughts, either before starting or during university.
"Starting university is a key life transition, which can be extremely stressful for some people," the report noted.
"In addition to adapting to university life, many students are also adapting to their transition into adulthood."
Of the students taking part in the study, 31% said they had suicidal thoughts, 24% reported a major depressive episode and 22% reported an anxiety disorder.
Over half of the respondents said they had suffered from at least one mental health disorder.
The study also found LGBT students were five times more likely to suffer from a mental health problem than heterosexual students.
Professor Siobhan O'Neill from the Psychology Research Institute at UU led the research team.
"This study provides important information for universities, policy makers and healthcare professionals on mental health and wellbeing in young people in general and particularly for students starting university," she said.
"We hope that our findings will assist in the development and implementation of mental health protection and prevention strategies in both the university setting and beyond."
The UU research was carried out as part of a wider World Health Organisation (WHO) study into student mental health and wellbeing.