Michael Cullen: Family say body has been found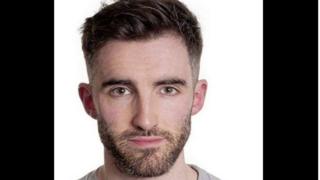 A body has been found in the search for a north Belfast man who has been missing since the start of January.
Michael Cullen, 33, was last in contact with his family at 14:00 GMT on Tuesday 9 January.
On Wednesday, the Community Rescue Service confirmed that a man's body had been recovered.
In a Facebook post, family member Niall Cullen, paid tribute to him, describing the award-winning beatbox performer as a "highly talented guy".
He added that Michael was a "much-loved son, brother, cousin and friend".
Niall Cullen wrote that it was "tragically, not the outcome that all of us wished and prayed so hard for" and that there would be "many whose hearts are now broken".
Police said a formal identification and post-mortem examination will take place but they are not treating the death as suspicious.
CCTV was released last week showing Michael Cullen heading towards Cavehill.
Sean McCorry from the Community Rescue Service told BBC News NI "it has been a very protracted and long search and very difficult".
"All credit has to go to the police in this particular case," he added.
"Our volunteers have been tirelessly out there searching every day from this search started.
"It's just been a methodical, slow and difficult search of a very difficult terrain."