Man shot in ankles in west Belfast attack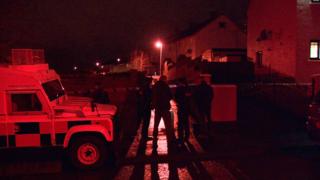 A 39-year-old man has been shot in both ankles in a gun attack in west Belfast.
Police said it happened in Glenalina Gardens shortly after 21:30 GMT on Tuesday. The victim is in a stable condition in hospital.
West Belfast MLA, Pat Sheehan, condemned the attack saying it had come "only days after another shooting in the area".
On Sunday evening, a 41-year-old man was shot five times at his home in Divismore Park in Ballymurphy.
The Divismore Park gun attack was the second of two paramilitary-style shootings in the city on Sunday.
Mr Sheehan, from Sinn Féin, said "the community wants these attacks to end immediately".