Hundreds attend vigil for murder victim Robert Flowerday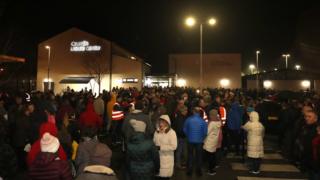 Up to 300 people have attended a vigil in memory of murder victim Robert Flowerday, who was found dead in Crumlin, County Antrim, on Sunday.
Police discovered the 64-year-old's body at his home in Mill Road after a member of the public raised concerns. A man has been charged with his murder.
The retired teacher was still involved in tutoring after he left his job at Antrim Grammar School.
Many of his pupils, past and present, brought floral tributes to the vigil.
A crowd of between 200 and 300 people gathered at Crumlin Leisure Centre on Main Street on Tuesday night and walked the short distance to his home on Mill Road.
'One of nature's gentlemen'
There, they held a cross-community candlelit vigil and prayers were said.
Former GP Owen Gallagher, who knew Mr Flowerday well, said he was an extremely kind man and a dedicated teacher.
"Robert was one of those rare things - he was one of nature's gentlemen," Mr Gallagher told BBC News NI.
"He was just gentlemanly, polite, never cross. If anything upset him... he just kept his calm at all times.
"Also, he was an exceeding good teacher. I have a large family and he taught five of my children.
"He taught physics, chemistry and maths and certainly, without his help, some of them wouldn't have got through their exams," Dr Gallagher said.
"He was infinitely patient, always arrived on time and frequently gave them 15 minutes extra."
Dr Gallagher said Mr Flowerday had tutored "well over 100 people in this community, both Protestant and Catholic".
'Terrible loss'
He added that as a teacher, he had an "ability to make everybody feel that they were special".
"He was an exceptional man and a terrible loss to the community," the former GP added.
Mr Flowerday was last seen leaving Dundrod Presbyterian Church on Sunday at approximately 12:45 GMT.
He cycled home wearing a high-visibility jacket, according to police who have appealed for witnesses.