MPs quiz NI secretary Karen Bradley on talks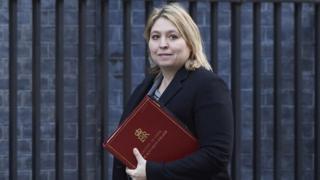 Northern Ireland Secretary Karen Bradley has been questioned by MPs about progress in the Stormont talks.
She appeared before the Northern Ireland Affairs Committee at Westminster on Wednesday.
Meanwhile, the House of Lords' EU select committee sat at Stormont to examine the impact of Brexit on UK-Irish relations.
It heard from police, politicians, farmers, businesses and academics.
Mrs Bradley was appointed secretary of state three weeks ago and this was her first appearance before NIAC since taking up the role.
'Plan B?'
She provided an update on the ongoing negotiations at Stormont, which are aimed at restoring devolution.
Northern Ireland has been without a power-sharing government for a year, after a coalition led by the Democratic Unionist Party (DUP) and Sinn Féin collapsed.
Last week, the head of the civil service in Northern Ireland, David Sterling, told NIAC MPs there needs to be clarity about a budget by 8 February.
UK-Irish relations
Among the witnesses due to give evidence to the Lords' EU select committee were PSNI Chief Constable George Hamilton, Sinn Fein's northern leader Michelle O'Neill and the DUP's Brexit spokesman, Sammy Wilson.
The Northern Ireland Affairs Committee (NIAC) examines the expenditure, administration and policy of the Northern Ireland Office and its associated public bodies.
The Lords' committee members left Westminster this week and travelled across the Irish Sea to gather evidence on preparations for Brexit and its implications for UK-Irish relations.
On Tuesday, it held an evidence session in Dublin, where it heard from, among others, the British-Irish Chamber of Commerce, the Freight Transport Association Ireland, the Irish Medical Association and the Irish Farmers' Association.
The committee travels north of the border on Wednesday, where it will take evidence from the Ulster Farmers Union, the Federation of Small Businesses, the Centre for Cross Border Studies as well as police and politicians.