RHI inquiry witness: Flaws mean it could happen again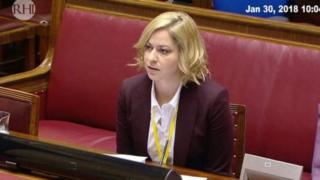 The public inquiry into Northern Ireland's flawed green energy scheme has been told the mistakes which happened with RHI could be repeated.
On Tuesday, the inquiry heard from Catherine McArthur, who drew up a feasibility study on the administration costs of the NI scheme.
She worked for the Office of Gas and Electricity Markets (OFGEM).
OFGEM was at that stage running the scheme in Great Britain and would ultimately look after the NI version.
She told the inquiry's chairman, Sir Patrick Coghlin, that key problems included "unrealistic timeframes" and a lack of understanding of the complexity of the work to launch the scheme.
She said she thought the problems that had bedevilled RHI in Northern Ireland could happen again in similar circumstances.
"I think it's just a case of making sure that there are sensible controls in place to understand very quickly what the real situation is and make adjustments if there is a need to do so," she said.
'Slow uptake'
Ms McArthur told the inquiry that OFGEM had proposed a joint board of representatives from it and the Department of Enterprise Trade and Investment (DETI) to monitor the RHI scheme.
This was to include reviews of expenditure and patterns of use.
Counsel to the inquiry, David Scoffield QC, said with hindsight that seemed "prescient".
The inquiry has already been told that board was never established because initial uptake to the scheme was slow and departmental officials believed they could manage without it.
The inquiry heard that OFGEM had also drawn up a risk register to accompany the feasibility study.
Mr Scoffield said the register was "fairly detailed" but there was no evidence it had been used as intended.
The inquiry was told the projected administration costs for RHI were based on assumptions about the uptake for the scheme.
Miss McArthur said DETI told OFGEM to assume that the uptake would be 3% of that in Great Britain.
Ms McArthur said they actually factored in a 5% uptake to ensure the administration budget would be sufficient.
She later discovered that DETI had sought funding for an administration budget based on a 3% uptake.
Based on that, it was projected that scheme running costs would be £136,000, £157,000, £198,000 and £249,000 in the first four years.
The issue of running costs is important because the inquiry has already heard that it was a key consideration by civil servants in opting for an RHI scheme.
'Strange'
A different option, a grant-type scheme called a Challenge Fund, was discounted even though it would have produced more renewable heat and would have been £200-300m cheaper.
But it would have cost £10-15m to administer at a time when DETI were keen to keep administration costs down.
Later, another senior OFGEM official gave evidence to the inquiry.
Keith Avis headed up the team which developed arrangements for running the RHI scheme.
He said he found it "strange" that the proposed oversight board had not materialised.
He believed it would have helped as it would have provided a layer of "robustness assurance and discipline".
'Breakneck speed
He said regular board meetings ensured there was no "drift".
Mr Avis spoke of the haste which had surrounded the project.
Mr Scofield asked him from where he believed the pressure for the "breakneck speed" had come.
He replied he believed it had come from "high, high up in the organisation".
Mr Avis said he felt at times there may have been direction from ministerial level to push it forward
The DETI minister at the time was Arlene Foster.