Stakeknife: Fred Scappaticci arrested over murders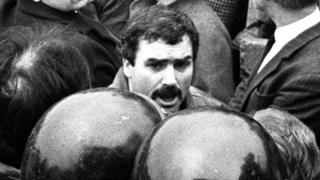 A man alleged to have been the Army's most high-ranking agent in the IRA has been arrested and is being questioned about allegations that he was involved in dozens of murders.
The agent codenamed Stakeknife has been named as Fred Scappaticci from west Belfast.
An investigation into his alleged activities, codenamed Operation Kenova, was launched in June 2016.
The investigation team confirmed that a 72-year-old man had been arrested.
The BBC understands the man being questioned is Fred Scappaticci and that he was arrested in Britain.
The investigation team said the arrest was "in connection with the investigation into allegations of murder, kidnap and torture".
A statement from the investigation team added: "He is currently in custody at an undisclosed location and will be interviewed in relation to the investigation. No further details of the place of arrest or where he is being held will be released due to security reasons."
Who is Stakeknife?
Fred Scappaticci is alleged to have been the most high-ranking British agent within the Provisional IRA, who was given the codename 'Stakeknife'.
He was the grandson of an Italian immigrant who came to Northern Ireland in search of work.
He has admitted, in the past, to being a republican but denies claims that he was an IRA informer.
He is believed to have led the IRA's internal security unit, known as 'the nutting squad', which was responsible for identifying and interrogating suspected informers.
Mr Scappaticci left Northern Ireland when identified by the media as Stakeknife in 2003.
Operation Kenova is being led by Chief Constable Jon Boutcher, from Bedfordshire Police.
It is examining the activities of current and former police officers, members of the Army and MI5 and former members of the IRA.
The operation involves a team of 48 detectives.
A statement by Operation Kenova said it had so far spoken to more than 40 families and generated 1,500 lines of enquiry.