NI hotels 'struggling to recruit staff'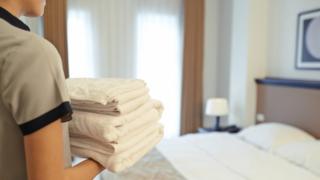 A surge in new hotels in Northern Ireland is creating problems finding staff, according to an industry body.
The Northern Ireland Hotels Federation (NIHF) said up to 10 new hotels are due to open in 2018 - bringing "both challenges and opportunities".
More than 1,000 additional rooms will become available in Belfast - a 25% increase in the city's hotel capacity.
NIHF said staffing was "a cause of concern" and "may constrain growth".
'Increase in demand'
The concerns echo similar warnings recently from Hospitality Ulster, which represents hotels, bars and restaurants.
Northern Ireland tourism is thriving, with a weak pound helping fill hotels with an influx of visitors, creating a demand for more rooms.
According to the NIHF, hotels are having difficulties recruiting and retaining staff - a situation not helped by "a poor image of roles within the industry".
Its chief executive, Janice Gault, said: "An increase in demand for staff from new openings will clearly exacerbate the situation and may constrain growth.
"We need to be working with education providers to find innovative solutions to address these issues."