Boundary Commission rejects Sinn Féin gerrymandering claim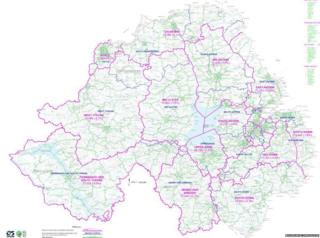 The Boundary Commission for Northern Ireland has rejected a Sinn Féin claim that proposed new parliamentary constituencies have been gerrymandered.
The party believes plans, to be announced later, which would reduce NI's Westminster seats from 18 to 17, are an attempt to placate the DUP.
The commission says it is an independent body and rejects any suggestion of political interference.
It is also proposed that all four Belfast constituencies be retained.
The Press Association caught sight of these new proposals earlier this month, and the aim is to create seats which are roughly the same size.
The changes are part of a plan to reduce the membership of the House of Commons from 650 MPS to 600, with each constituency having an electorate in the region of between 71,000 - 78,000.
Latitude
Although Boundary Commissioners in Northern Ireland have some latitude with this guidance a number of the proposed seats fall under the 70,000 figure.
Under the plans, familiar parliamentary names like Strangford, North Antrim and Lagan Valley would disappear.
New names like Mid Down, Mid Antrim and Causeway are being proposed.
A new Causeway constituency would be created on the north coast, taking in Ballycastle, Ballymoney and Coleraine.
'Not impressed'
North Antrim would be renamed Mid Antrim and would take in parts of the existing constituencies of East Antrim and South Antrim.
A part of Lagan Valley would merge with Strangford and a part of South Down to create a new seat called Mid Down.
Sinn Féin were not impressed by the leaked plans, arguing they amounted to gerrymandering, but the Boundary Commission rejects any suggestion of political interference.
The plans now go out to consultation and will need parliamentary approval.
A final report will be submitted to Northern Ireland Secretary Karen Bradley in September.