Waringstown: Woman injured as van crashes into kitchen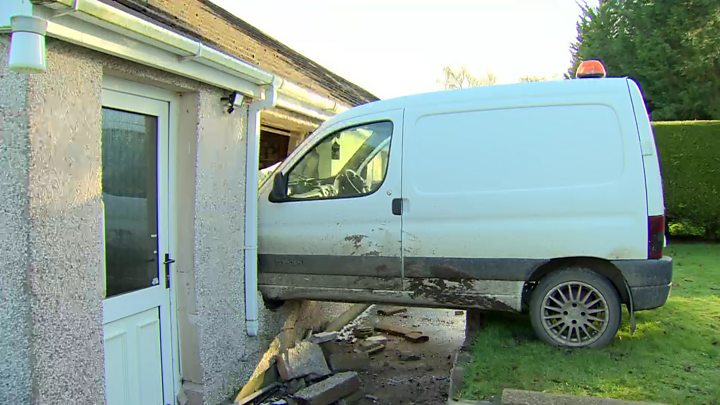 A woman in her 70s has described how she was knocked out of her chair on to the floor when a van crashed through the wall of her County Down home.
"When I looked up I could see the front of the van on my workbench," said Annie Burrell.
It happened at Clare Road, Waringstown, shortly after 21:00 GMT on Sunday. The car ended up in her kitchen.
Ms Burrell was treated for shock and minor injuries caused by glass. A man has been charged with driving offences.
The 27-year-old driver is due to appear in court on Tuesday, accused of dangerous driving, driving with excess alcohol in his breath and failing to remain at the scene of a collision.
'Loud bang'
Ms Burrell said was sitting in a chair in when "all of a sudden my back window came in".
"There was a loud bang, maybe with the window breaking and I was knocked out of my chair onto the floor," she said.
"The water was running all over the floor."
She added: "I was concerned about whoever was in the van and whether they were badly hurt."
Ms Burrell said she had been very frightened and felt "total disbelief" at what had happened.
But she added: "It could have been a lot worse."
Democratic Unionist Party MLA Carla Lockhart said: "I know this lady well and to see the pictures does bring home how shocking it was.
"It is fortunate this morning that we are not dealing with a fatality."