Magheralin arson attack 'destroys 15 mobile homes'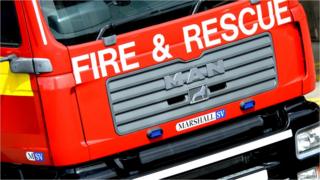 A large number of mobile homes worth about £500,000 have been destroyed by an arson attack in County Down.
About 15 homes were destroyed shortly before midnight on Sunday on Drumnabreeze Road in Magheralin, police said.
The Northern Ireland Fire and Rescue Service believes a mobile home was deliberately set alight and placed in such a way that the flames spread to others.
Police have appealed for witnesses.