Paper Review: Politician's pain, Status Quo in Cultra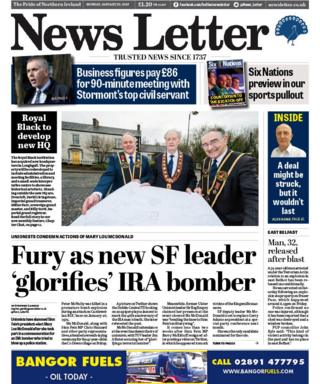 Monday's papers sing from different hymn sheets, with each choosing a different lead.
The Belfast Telegraph brings us an interview with a tragic background.
We hear about a politician's "deep regret" that he was not with his wife when she learned one of the twins she was carrying had died.
SDLP leader Colum Eastwood's wife Rachael lost their baby during the run up to last year's Assembly elections.
In his first public interview about the tragedy, Mr Eastwood speaks about the couple's grief.
"I should have been there for my wife," he tells the paper.
He says his wife learned the news during her 20-week-scan, while he was on BBC's Talkback programme revealing that they were expecting twins.
"Not being there for Rachael at that difficult time was what annoyed me most. She understood but I deeply regret that," he said.
The couple's second daughter Maya was born last June.
The News Letter focuses on a political row over new Sinn Féin president-elect Mary Lou McDonald.
The papers reports unionist "fury" over her attendance at a commemoration for an IRA bomber who tried to blow up a police station in 1972.
Peter McNulty was killed in a premature bomb explosion during an attack on Castlewellan RUC base.
Mrs McDonald attended the commemoration along with Sinn Féin MP Chris Hazzard.
However former Ulster Unionist leader Sir Reg Empey said she was "bending the knee to the Sinn Féin military wing," while TUV leader Jim Allister said she was "glorifying a terrorist".
Sinn Féin said there was "no hierarchy of victims" and that Republicans would continue to "honour their patriot dead".
The Irish News leads with the shocking arson of a £60,000 patrol boat used by bailiffs on Lough Neagh.
It reports that two men wearing balaclavas cut the vessel from its mooring at a quay in Moortown, in County Tyrone on Saturday.
It was then set alight and sank after the fire was put out by fire fighters.
The paper says it is the first time a boat belonging to a cooperative has been "targeted and destroyed" in this way,
Emotionally intelligent cars
Northern Ireland inventors have been responsible for milk chocolate, the Kelvin unit, the portable defibrillator and pneumatic tyres (but to name a few).
But the greatest achievement may be just around the corner - a car that tells if you're drunk.
The News Letter brings us the news that a company from Northern Ireland is "at the forefront" of developing technology to keep our roads safe.
Belfast-based Sensum is working on a car with Ford which uses sensors to "track its driver's emotions".
The company's Dr Cavan Fyans says the car could say: "You're too drunk to drive, why don't I drive home for you?"
The community of Aughnacloy in County Tyrone was in shock last week after an 83-year-old fell from a her home's upstairs window while trying to escape intruders.
Pat Davidson was found lying injured under a window of her home on Tuesday.
The Belfast Telegraph reports that the main suspect in the burglary is a 27-year old man from Dublin.
It claims he is a "prolific burglar from the Tallaght area". It says he was held after a high-speed chase but has not yet been arrested.
Deep cuts?
The Irish News reports that jobs quango Invest NI has "broken with protocol" by challenging the government over a proposed 40% cut to its budget.
The paper claims to have seen a document in which agency chief executive Alastair Hamilton says he was kept in the dark over the Department of Finance's 2018-2020 budgetary outlook, having no input into the process, nor visibility of the various scenarios until "the last few days".
It says he has written to the DoF over the severity of the cuts which he believes it is about to apply to the Department for the Economy.
The Belfast Telegraph reports on a father and daughter who know how to party,
The paper reports that legendary rockers Status Quo flew to County Down to play a surprise birthday gig for one of Northern Ireland's top businessmen and his daughter.
The band has returned to playing gigs since Rick Parfitt died in 2016.
The paper says Leslie Hughes, who founded Hughes Insurance and his daughter Nicola Thompson's birthday at the Culloden hotel was quite the shindig.
As well as Status Quo, impressionist and comedian Rory Bremner also performed, posting a picture of the band in full swing.
After the part Nicola Thompson tweeted that it had been a night she'd "never forget".
What are the chances she gets "Whatever she Wants" for her birthday....