Two men shot in 'paramilitary-style' attacks in Belfast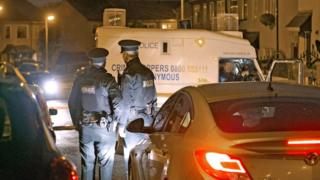 Two men have been shot in separate so-called 'paramilitary-style' attacks an hour apart in west and north Belfast.
A 41-year-old man was shot five times in his arms and legs when a gang entered his home at Ballymurphy in the west of the city on Sunday evening.
In north Belfast, a 26-year-old man was shot three times in his legs at his home in Upper Meadow Street, New Lodge.
Police said both victims have sustained "potentially life-changing injuries" and were taken to hospital.
'Terrifying'
The 41-year-old victim was shot at a house in Divismore Park and the attack was reported to police at about 19:35 GMT.
No-one else was in the property at the time of the shooting.
The second shooting was reported at about 20:30 GMT.
A PSNI spokesman described both incidents as "terrifying" paramilitary-style attacks in the victims' own homes.
"It is another example of a criminal group trying to control a community by the use of weapons, fear and violence."
'Creates alarm'
Sinn Féin north Belfast councillor JJ Magee described the New Lodge shooting as "brutal" and said there had been a number of such attacks in the area.
"These shootings must stop," he said.
"People want them to stop, they don't want these kind of shootings in their area and they want these people to go away."
'Horror'
Speaking about the Ballymurphy shooting, West Belfast Sinn Féin MP Paul Maskey said his reaction was "one of horror".
"No-one, whether it's community representatives, whether it's neighbours, whether it's anyone around these streets wants to see this activity," he added.
Mr Maskey's party colleague councillor Steven Corr said such attacks were "unwelcome and unwanted".
He told BBC Radio Ulster: "Three men, believed to be masked, turned up at the door and gained entry.
"We're not too sure if they forced entry... but they went inside and they shot one of the occupants."
Mr Corr added: "There are a lot of elderly people living there, so obviously when shots are discharged in any street in a built-up area it causes and creates alarm among the local population."