Lough Neagh patrol boat destroyed in arson attack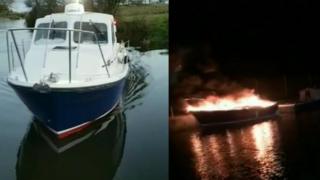 A new patrol boat, which was to help enforce fishing regulations on Lough Neagh, has been destroyed by arson.
The police are believed to be studying CCTV footage showing two men wearing balaclavas setting fire to the boat near the Battery Harbour on Saturday.
The Lough Neagh Fishermen's Co-operative had only taken delivery of the £60,000 vessel last week.
They described it as an attack on the livelihoods of the local fishing community.
The co-operative was set up to manage the eel industry on Lough Neagh and help to conserve stocks of the local delicacy.
'Possible grievance'
Their boat was filmed on fire at the co-operative's marina on the western shores of the lough during the early hours of Saturday.
The remains of the vessel are now under water at the marina.
Pat Close from the fishermen's co-operative told BBC Newsline they did not know why it had been targeted.
"Clearly we're involved in regulating the fishery on Lough Neagh, that requires enforcement and so on," he said.
"It is possible that some one has a grievance against us but really that's not an issue that I can speculate on at this time."
Local fisherman Martin Devlin said: "The whole fishing industry is shocked, angry.
"I don't think there are enough words to describe where people are coming from at the moment."
He added: "We look at the perpetrators of this act as people who are little more than criminals and cowards,
"If someone has a disagreement or whatever, come and talk to people - this is unacceptable."
The EU granted the Lough Neagh Eel its prestigious Protected Geographical Indication (PGI) status in 2011.
PGI status distinguishes food products that have been uniquely sourced in a particular EU area.
Other examples of PGI products include Champagne, Parma ham, and Armagh Bramley apples.