Bovine TB: Charity 'against blanket badger cull'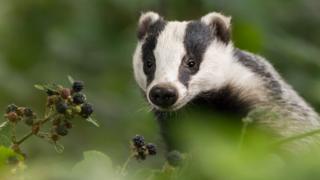 A leading wildlife charity had said it does not support a "blanket" badger cull proposed as part of plans to tackle a costly cattle disease.
The Department of Agriculture and Environment is consulting on a plan to eradicate Bovine tuberculosis.
It includes proposals for a cull of the protected species in intervention zones 100 sq km.
All badgers within a central core of the zone would be trapped and shot.
Healthy badgers in a buffer area outside the central core would be vaccinated and released.
'Healthy badgers'
But Ulster Wildlife has said it does not back the plan.
In a submission to the consultation it said it cannot support the killing of healthy badgers.
It said all badgers in the intervention zones should be trapped and tested and only the diseased ones should be put down.
The charity accepted that the disease is costly and a difficult one for farmers and it is in broad agreement with the rest of the proposals in the government consultation.
Bovine TB is expected to cost £40m this year in testing costs and compensation payments to farmers whose infected cattle are slaughtered.
Ulster Wildlife said it believes infected badgers are only a "minor part" of the infection chain.
It calls for more research to establish disease transmission between badgers and cattle.
The department's proposals have already fallen foul of farmers over plans to cut compensation payments and ask them to contribute towards testing costs.
The consultation ends next month.