P7 pupils receive transfer test results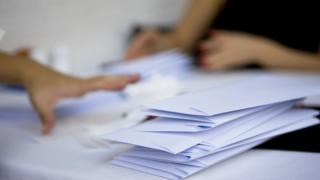 Thousands of children in Northern Ireland received the results of their post-primary school entrance exams on Saturday.
Both the AQE and the Post-Primary Transfer Consortium (PPTC) reported a significant rise in entrants this year.
In total, there were 15,319 entrants in 2017/18, up by almost 6% from 14,491 in 2016/17.
It is estimated that about 2,500 children sat both the AQE tests and the GL Assessment exam run by the PPTC.
Most grammar schools have been using unofficial tests to select pupils since 2008, when the 11-plus was scrapped by the Department of Education.
Of the two testing systems, GL Assessment exams are mostly used by Catholic schools while AQE exams are mostly used by controlled schools.
Primary seven pupils can opt to sit either exam, both or none.
Some of Northern Ireland's 66 grammar schools accept results from both tests.
There were 8,169 entrants for the AQE tests this year, up from 7,725 in 2016/17.
There were 7,150 entrants to the GL Assessment exam, up from 6,766 last year.
There have been attempts to create a single exam, and the BBC understands that talks between AQE and the PPTC are ongoing.
Although sources in both organisations told the BBC good progress had been made this year, there is no sign yet of agreement on a common transfer test.
Pupils received their test mark on Saturday, but will not know which post-primary school they will transfer to until May or June.
Many waited at home for their results to be delivered by post, while others travelled to their local post office sorting centre to pick results up.
A few schools also opened for pupils - and their parents - to collect results.
'Over the moon'
Lucy Morrison, who sat both exams, opened her results with her dad, Derek, and was very pleased.
"We're absolutely delighted," said Mr Morrison.
"She has the grades that she needs. We're over the moon.
"She had 5 tests to do all together.
"The whole month of November was lost - every Saturday, there's so much commitment - but she's done incredibly well," he added.