Loughinisland case 'unique and unprecedented'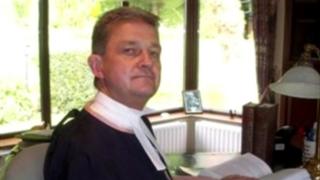 This was a court hearing like no other.
In 30 years of journalism I have witnessed nothing like it before.
The judge and legal teams involved all described the proceedings as unique and unprecedented.
First the judge outlined in detail why he was rejecting legal submissions asking him to "recuse" himself because of a potential public perception of bias.
In plain English that means he was asked to withdraw from the case.
His response was very clear.
Mr Justice McCloskey said "the test for recusal is not satisfied".
"The application is refused accordingly," he went on to say.
Who is Mr Justice Bernard McCloskey?
Bernard McCloskey QC was appointed a high court judge in 2008.
Between 2103 and 2017, he was the UK's most senior immigration judge when he was appointed president of the Immigration and Asylum Chamber of the Upper Tribunal.
That was the end of the matter.
Or so we thought.
But the judge then said, that "in the unique circumstances of this case", the question of whether he should withdraw was not necessarily confined to a legal challenge.
He then revealed that he was voluntarily stepping aside and made it clear that he was doing so because of consideration for the families of the victims.
A new judge will now be appointed to rehear the legal challenge to the Police Ombudsman's finding of collusion in the Loughinisland attack.
That was not the only twist in court today.
Having ruled last month that the Police Ombudsman did not have the legal authority to say there had been collusion, the judge this morning revealed that he had informed the legal teams involved that he intended to quash sections of the report.
It is understood those sections included the finding of collusion.
'Unique and unprecedented circumstances'
But he then said that in the "unique and unprecedented circumstances" of this case the interests of justice would not be furthered by issuing a final outcome at this stage.
The judge said he had to consider whether the families of the victims could have genuine confidence in such an outcome.
He then said he would not give a ruling on whether the report should be quashed.
Journalists and relatives then went scurrying to the legal teams seeking guidance on exactly what had just happened.
It all became crystal clear.
Eventually