Tyrone man gets suspended term for 300 tonnes of waste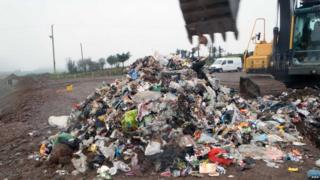 A County Tyrone man has been given a suspended jail sentence for having 300 tonnes of waste from the Republic of Ireland buried on land near Cappagh, County Tyrone.
Patrick Nugent, 32, of Altaglushan Road, Galbally, got a two year sentence, suspended for three years.
Officers from the Northern Ireland Environment Agency (NIEA) investigated the site on Reclain Road in 2015/16.
They found 318 tonnes of baled and loose waste buried there.
It included plastic food packaging, newspapers, clothing, toys, domestic waste, personal letters and mixed commercial waste.
Nugent had pleaded guilty to keeping waste and causing pollution of the environment or harm to human health.
The NIEA is working on a separate proceeds of crime investigation.
They are collaborating with officials in the Republic to repatriate the waste from the illegal landfill.