Stephen Carson murder: Two men deny charges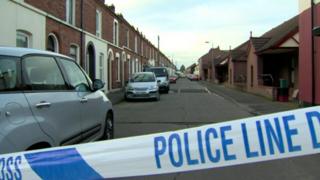 Two men have appeared in court charged with killing Belfast man Stephen Carson.
Mr Carson, 28, was shot in front of his family at his home in Walmer Street, Belfast, in February 2016.
Michael Lawrence Smith, 39 and David James Francis Smith, 34, both of whom have separate addresses at Monagh Drive in west Belfast, were charged with murder.
Three weeks have been set aside to hear a three-week trial in May.
Both men deny the charges.
Michael Smith was also charged with and denied possessing a firearm with intent to commit murder, on 25 February 2016.
A crown prosecutor told the judge that the trial is expected to last between two and three weeks, with the proposed date of commencement set as 28 May 2018.
Following the hearing, both defendants were remanded back into custody.