Dispute between farmers and department over subsidy appeals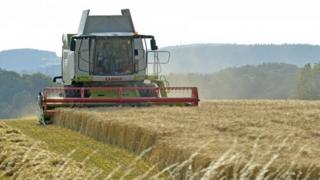 Farmers and civil servants are embroiled in a war of words over plans to change how disputes over EU subsidy payments are settled.
The Ulster Farmers' Union (UFU) said the Department of Agriculture and Environment (DAERA) had taken a "disgraceful decision" which would disadvantage farmers.
The department rejected the claims.
It said they were "unfounded and inaccurate".
The row centres on changes to how disputes linked to EU schemes and subsidy payments are resolved. The new system takes effect from April.
Currently farmers can appeal decisions in a two step process.
This includes levels of penalties applied to farmers who do not comply with rules linked to subsidy payments.
The first stage is an internal review by officials.
A second stage involves an external panel which makes a non-binding recommendation to the department.
The department has the final say.
The second stage is now being done away with.
The UFU said it had opposed the move during a consultation.
'Kiss goodbye to fairness'
Union president Barclay Bell said it appeared that had been a "paper exercise" and the decision had been taken immediately after it closed.
"I can't remember the last time I heard of a farmer winning a first stage appeal," he said.
"It's an approach that stacks the deck in favour of DAERA.
"Farmers can kiss goodbye to fairness, transparency, and independence."
But the department rejected the allegations.
'Faster decisions'
It said the UFU had helped shape the proposals in a pre-consultation exercise.
It said the new process would speed up dispute resolution and keep farmers better informed about the outcome.
"It will result in faster decisions, whilst maintaining fair, impartial and transparent consideration of the applicant's grounds for review."
The UFU said quicker did not mean fairer and in some cases the sums of money involved could be substantial.
'Make or break'
Mr Bell said for some it could be "make or break".
He claimed the decision was "rooted in arrogance" from a department without "any political oversight".
The department said it was committed to paying farm businesses the payments they were entitled to and that they had the chance to have decisions reviewed under a "fast transparent and accurate process".