RHI inquiry: Economist 'did not see false economy'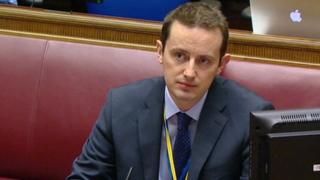 An economist who signed off the RHI scheme has said it did not strike him as an "enormous false economy".
Sam Connolly had the job of checking that the project made financial sense before it was launched.
The RHI inquiry has heard a number of options were considered to incentivise firms to switch to biomass boilers.
A grant-type scheme called a Challenge Fund was estimated to be several hundred million pounds cheaper than RHI and would have provided more heat.
However, it was discounted because in the short term the administration costs were higher.
Inquiry counsel Donal Lunny asked whether Mr Connolly could have refused to sign off the RHI scheme in March 2012 because it represented poor value for money.
He suggested that officials appeared to be opting for a scheme which was several hundred million pounds more expensive, just to try and save £10-15m in administrative costs.
This, he suggested, was "an enormous false economy".
Mr Connolly said he believed that the Challenge Fund option had been discounted almost eight months earlier.
He said the sign-off he presented to officials in the Department of Enterprise Trade and Investment (DETI) was not an "endorsement" of the RHI scheme.
He described it as advice or an opinion.
But Mr Lunny said his sign-off email could be read as an endorsement and had been interpreted as such by DETI officials.
In it, he wrote that the RHI scheme was "the most effective way of allocating the resources provided by Her Majesty's Government for the purpose of an NI RHI".
The inquiry was told that as he was preparing his value for money assessment, Mr Connolly believed there were only two options left on the table - a Northern Ireland RHI or a Great Britain-style RHI.
'No explanation'
But when the decision came before a departmental scrutiny group on 9 March, 2012 he realised that three options were being discussed and that the Challenge Fund was one of them.
Mr Connolly was asked whether he alerted the scrutiny group to the fact that the Challenge Fund option had not formed part of his sign-off consideration.
He had not informed the group, and, when asked why not, he said he had "no explanation".
'Rushed'
The inquiry was told that Mr Connolly was given only 48 hours to provide the value for money sign-off after he was sent the final documents for assessment.
He said at the time he had not considered that a problem but now accepted he had been under big time pressure.
He said in some cases he had been only able to give the documents a "cursory review" and that had led him to miss things he might have picked up had there been more time.
"It looks like there were mistakes with that document but that's what happens when things are rushed," the economist said.