Who is Mr Justice Bernard McCloskey?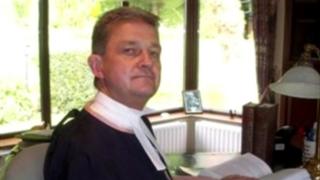 Bernard McCloskey QC was appointed a high court judge in 2008.
Between 2103 and 2017, he was the UK's most senior immigration judge when he was appointed president of the Immigration and Asylum Chamber of the Upper Tribunal.
In 2017, he accused lawyers representing a child sex grooming gang from Rochdale seeking to avoid deportation of "shameful behaviour".
Mr Justice McCloskey was chairman of the Northern Ireland Law Commission from 2009 to 2012.
He is also a former deputy chairman of the Boundary Commission of Northern Ireland and judge in residence at Queen's University Belfast.
In 2013, the judge warned against "ill-informed" interference in the process of law after after some figures in the DUP had criticised how unionists and nationalists were treated under the law.
The controversy over his involvement in the Loughinisland case centred on a challenge against another Police Ombudsman's report in 2001.
The then ombudsman Nuala O'Loan had ruled there had been failings by the RUC during the investigation into the Omagh bombing.
Then a barrister, Mr McCloskey represented senior RUC officers who unsuccessfully challenged the report.
Families of the Loughinisland victims agued that meant there was was a potential public perception of bias.