Bombardier: Theresa May holds talks with Trump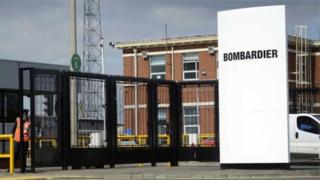 Downing Street has said the prime minister has again raised the importance of Bombardier jobs in Northern Ireland with President Donald Trump.
The two leaders have held talks at the World Economic Forum in Davos.
The talks come ahead of a a ruling by the US International Trade Commission.
A decision will be made on whether or not to enforce import tariffs on sales of Bombardier's C-Series aircraft to American carriers.
Unions have argued that a tariff could threaten jobs in Belfast, where the plane's wings are manufactured. About 1,000 jobs in Belfast depend on the aircraft's success.