Ballymurphy families in London opposing statute of limitations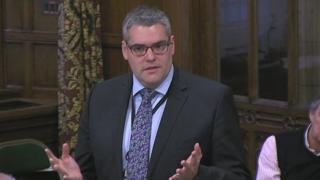 Relatives of those killed by the army in Ballymurphy in 1971 have travelled to London to oppose the introduction of a statute of limitations for members of the security forces.
MPs debated the issue on Thursday.
Last year the Defence Committee backed its introduction claiming legacy cases involving soldiers had been "unfairly prioritised".
The committee stopped short of recommending a statute of limitations for all sides during the Troubles.
It said that was for the government to decide.
'Served our country'
The cross-party group of MPs added that the government should "not lose sight of its moral responsibility to those who have served our country".
The committee also wants to see a truth recovery mechanism which they say would help families establish what happened in the past.
Speaking in the debate in Westminster the East Belfast MP Gavin Robinson said the decision was whether the government was prepared to "redress the approach to legacy, redress the approach to our service personnel and start protecting those who protected us ".
He was joined in the short debate by his DUP MP colleagues Jim Shannon and Emma Little-Pengelly.
The debate in Westminster, which centred on last year's Defence Committee report, was proposed by Conservative MP Julian Brazier. Defence Minister Mark Lancaster replied for the government.
Watching in the public gallery were relatives of those who were killed by the Army in Ballymurphy in Belfast in 1971.
John Teggart was just 11 years old when his father was shot dead.
He said he and other relatives had travelled to London to present an alternative argument. He said the families had many unanswered questions.
He told the BBC those in favour of a statute of limitations are claiming that there is a witch hunt against former security force personnel.
'Insult to victims'
He said the statistics show that is not the case. He said he wanted to know why his father was shot and said it was really important MPs and others in London heard their story.
The Ballymurphy campaigners were joined by the South Down Sinn Féin MP Chris Hazzard who believes the idea of a statute of limitations is "an insult " to victims and relatives.
The idea of a statute of limitations is to be put out to consultation by the government.
Last year the Irish government expressed concern about the planned move and said it would "not look favourably" on any amnesty measure in Northern Ireland.