RHI inquiry: Economist says scheme was 'beyond him'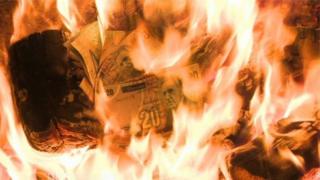 An economist who signed off on the RHI scheme has accepted that he was "relatively inexperienced" and a more senior person should have been given the job.
Sam Connolly said he had done his best with the complex and novel scheme.
However, he conceded to the RHI Inquiry that he had limited experience in dealing with such incentive projects.
He had been working for the Department of Enterprise Trade and Investment since 2008.
But by the time he started preparatory work for RHI in 2010 he had only two to three years experience of applying civil service rules on economic appraisal of proposed projects.
He was asked by inquiry counsel Donal Lunny whether he was too inexperienced for the RHI task.
Mr Connolly said that he was.
"It's hard to sit here today and suggest otherwise. This was a very complex scheme," he said.
"I did what I could to challenge and scrutinise it but it was involving concepts and sums of money that were beyond me."
Mr Connolly said the scrutiny role proved difficult because of the technical nature of the work produced by consultants Cambridge Economic Policy Associates (CEPA), which advised the department on the establishment of the scheme.
He agreed with Mr Lunny who suggested that he had been "very much at the mercy of or dependant on the expert external consultants".
He said he had spotted the fact that while the scheme in Great Britain had cost controls they were not part of the scheme in Northern Ireland.
He understood that a tiered tariff - where a higher rate is paid for a portion of the heat generated and a lower tariff for the rest - could help prevent a "perverse incentive" for boiler owners to run their boilers just to earn the subsidy.
But he did not appreciate that it could also prevent overcompensation for those running their boilers for lengthy periods.
Mr Lunny suggested that Mr Connolly did understand that there were risks with the project.
These included an inability to predict how many people would join or how much they would use their boilers and the danger that fuel prices could fluctuate and that he also knew that there was a fixed budget.
Mr Lunny asked had Mr Connolly ever considered asking CEPA to bring in tiering as a form of cost control. He said he had not done so.
He said he also "naively assumed" that if too many people joined the scheme could be closed quickly to new applicants - something which was incorrect.