Ballykelly civil servants move may not hit target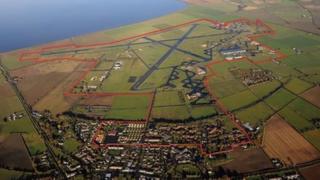 One of the largest redeployments of government staff in Northern Ireland may not reach its target, according to a trade union.
Up to 240 civil servants are set to move to the Department of Agriculture, Environment and Rural Affairs' (DAERA) new headquarters in County Londonderry.
Their move to the former army base in Ballykelly is set for the end of March.
A further 80 staff are expected to work in the new £21m building over the next three years.
The building has a capacity for 600 workers.
But, public sector union Nipsa has told BBC NI's The View programme that officials will struggle to fill the building.
"First of all no one else has been identified to move but we are seeing massive cuts to the public service and over the next couple of financial years those cuts will be massive," said Bumper Graham, Nipsa assistant general secretary.
"So, therefore, there will be less jobs available to be transferred."
He also warned that the lack of a Stormont Executive to approve future transfers will hamper the process.
However, Colin Lewis, deputy secretary at DAERA, said he is confident the places will be filled.
He said DAERA may look to other government departments to fill the gaps as "they can't let the building remain unfilled".
"The decision has already been taken by the executive that this headquarters building will be built and will be filled by 600 people," he said.
"I think it would be beneficial to have ministers in place for them to consider what options are available, but there is a momentum here already that this building will be filled in one form or the other."
Life changes
He also revealed that more than 90% of those moving to Ballykelly already live in the north west.
Among them is Alastair Butler, from Londonderry, who worked at the DEARA headquarters on the Stormont estate for 12 years.
"I have checked the route - its 20 minutes from here to the front door in Ballykelly.
"So my commute is going to change from two hours to get to work to 20 minutes to get to work and that is going to make such a difference to my life.
"I am going to be able to be at home with my family much more that I had over the past 12 years," he said.
But SDLP MLA John Dallat said that, while he welcomes the redeployment, it falls short of what was pledged.
"240 jobs is a lot short of the 800 that was initially promised," he said,
"But, even if it was to rise to 320, that doesn't happen until 2021.
"And remember, this is only one tiny part of this whole estate - 700 acres and my expectation, and many others', was we would have thousands of new jobs created here by now and there are none.
"We need solid new industry that will mean families will come and settle here and send their children to the local school - that they will become part of the local community."
'High-quality jobs'
However, Sinn Féin MLA Caoimhe Archibald accused the SDLP of "cynically criticising" a positive move for political purposes.
"This is about the decentralisation of the department as a whole," she said.
"Its about addressing the disparity in the distribution of public sector jobs across the north and offering people in rural communities the opportunity to access high-quality public sector jobs within their own areas."
DUP MP Gregory Campbell said the new DEARA offices will help attract private investors to the former military site.
"I would expect there to be in the region of 800 to 1,000 jobs between the public and private sectors bringing better employment opportunities for an area that, up until now, hasn't exactly been over invested by the public sector," he said.
You can watch more on this story on The View, Thursday at 22:40 GMT on BBC One Northern Ireland.