Norman Prentice: Residents urged to check property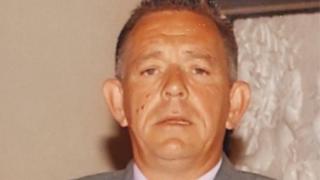 The police have urged residents in the Portadown area to check their property for a man who was reported missing more than a week ago.
Norman Prentice, 55, was reported missing on 15 January but had not been seen for several days before that.
The last confirmed sighting of Mr Prentice was captured by a bank's CCTV cameras on 5 January.
There have also been unconfirmed sightings on 13 and 14 January at Woodhouse Street.
His niece, Rachel Barry, told the Stephen Nolan Show that his disappearance had taken "a lot out of the family".
"Norman is of no threat to anybody, he's a gentleman, he's a character and we just can't understand it," she said.
"The longer it goes on the worse it's getting for my poor grandfather and mother.
"It's so heartbreaking, you don't know how you're going to feel until you're in this circumstance.
"Norman has four children, he has only one girl and and she is 17 - and you know it really is just taking its toll."
In its latest appeal, the PSNI have asked people in the area to check their outhouses for Mr Prentice.
"It is possible that he is sleeping rough, has found a shed or outbuilding, or has fallen and is taking shelter in an alleyway or back garden," police said.
"If you live in Portadown town centre, anywhere near the Bann towpath, up towards Garvaghy Road, Obins Street, Corcrain Road, West Street or anywhere in between, please check your property.
"Check sheds, alleyways, bin stores, garages, any small patches of waste ground at the rear of your property. If you have elderly neighbours, please call with them and offer to check the same for them."
'Please come home'
The search for Mr Prentice has included foot patrols in parks in the area and a boat search of the River Bann.
"There's talk of going back to the River Bann," said Ms Barry. "But, unfortunately, the weather is very badly against our side because the river banks are flooded and the ground is too soft."
Ms Barry said that Mr Prentice's bank account had not been accessed since 12 January and his phone had not been used since 4 January.
"It (the phone) could be lost or anything. Norman had also been down to Dundalk recently just after new year. The Gardaí (Irish police) have been informed and there's been nothing," she said.
"Norman never leaves Portadown unless he tells somebody where he's going."
She added: "We can't thank the public enough. And the PSNI are keeping us well updated.
"My message to him is: Norman, just please come home, we just want you home."
The police have asked anyone with any information, including possible sightings of Mr Prentice, to contact them.