Queen's University appoints Prof Ian Greer as vice-chancellor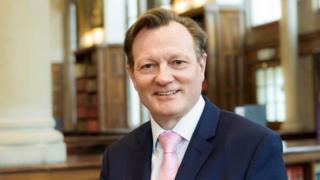 Queen's University, Belfast, has appointed Prof Ian Greer from the University of Manchester as its new vice-chancellor.
He succeeds the late Prof Patrick Johnston and is the 13th vice-chancellor in QUB's 172-year history.
He will formally take up the post on 1 August 2018.
A specialist in obstetrics and gynaecology, Prof Greer is currently head of Manchester University's faculty of Biology, Medicine and Health.
Undisclosed salary
He said he would seek to build upon his late predecessor's achievements.
"Queen's has an enviable reputation for research, education and innovation and plays a major leadership role in the economic, social and cultural development of Northern Ireland," he said.
"I very much look forward to committing my energy, drive and enthusiasm to leading the further development of Queen's as a world-class global university with regional impact."
No details of Prof Greer's salary have been released by the university.
A spokesperson said: "As the incoming vice-chancellor is still currently employed at another institution it would be inappropriate to comment on contractual details at this time."
"The vice-chancellor's salary will be publicly available when he actually takes up post."