Aughnacloy burglary: Woman's 'shock' at finding 83-year-old on ground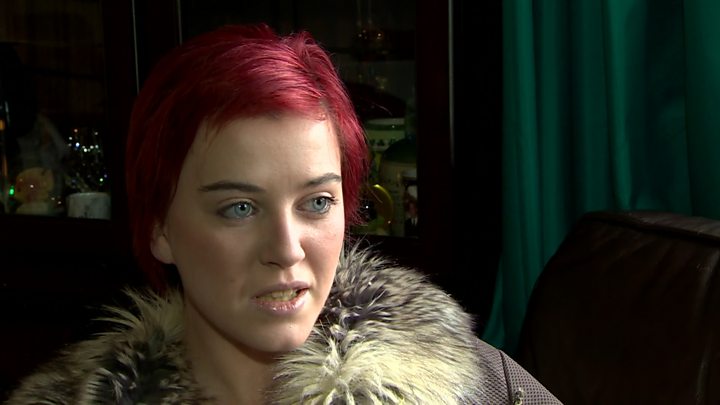 A neighbour has told of her shock at discovering an 83-year-old woman who is thought to have fallen from an upstairs window trying to escape intruders.
Pat Davidson was found lying injured under a window of her home in Aughnacloy, County Tyrone, on Tuesday. She is critically ill in hospital.
Cody Morrison saw a suspicious vehicle outside Mrs Davidson's house and heard cries for help.
She then found the pensioner "lying on the concrete" outside her house.
"She said she'd jumped from the window down," said Miss Morrison.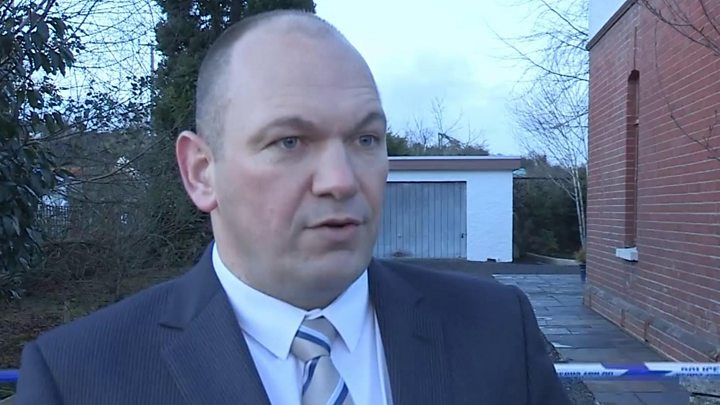 "The woman was very shaken up, disorientated, crying with pain, saying she'd a sore back.
"She just kept saying: 'There's someone in my house, someone's trying to get into my house'.
Miss Morrison and her friend, Siobhan, reassured her and fetched blankets and pillows to keep Mrs Davidson warm while they waited for the police and ambulance to arrive.
She praised the police emergency services for their response, saying it was "very quick".
Police are treating the incident as attempted murder and have appealed for information on two cars with suspected fake registrations.
They said they have "made progress" in the investigation and are seeking the public's help in tracking down the vehicles which may have been in the vicinity of the burglary and three others in the nearby area on Tuesday night.
The minister of Aughnacloy Presbyterian Church, Rev Ian McKee, told the BBC's Good Morning Ulster programme it was a "horrendous incident".
"While burglaries are not uncommon, for something like this to happen in our little town, folk really cannot take it in.
"She is a member of my congregation, I have been minister in Aughnacloy for six years and Pat is a member of mine and a well-respected lady in the town."
Four men ransacked Mrs Davidson's home in Sydney Street shortly after 21:00 GMT on Tuesday.
It is understood a passer-by who was walking his dog disturbed the burglars, who left the scene in a black car.
'Screaming in pain'
Another of Mrs Davidson's neighbours described the distressing scene he witnessed outside her house.
"When I arrived home, the police were here and the lady was lying on the footpath just at the side of the house and she was screaming in pain," the man said.
"To do that on an 83-year-old woman is disgraceful."
The man said he had lived beside her for almost 40 years and described her as a "great neighbour".
Police are investigating a possible link between the incident and three other burglaries which happened nearby on Tuesday in:
Aghaloo Close in Aughnacloy
Richmond Park in Ballygawley
McDowell Terrace in Seskinore
Det Ch Insp John Caldwell said: "We are seeking information about a dark coloured car bearing the registration GK56 AEG, and a silver car, possibly a Ford Focus, with registration 06WX 6313.
"We believe at this stage these were both false registration plates."
Mrs Davidson is a widow who has two grown-up sons and Rev McKee said he had spoken to her family.
"They are in a very distressed state as one can imagine but very positively praying for her full recovery," he said.
He described Mrs Davidson as a "very private person" who would be "horrified at the attention" the incident has generated.
'Traumatised'
"She goes about her business in a very quiet manner, and is well liked by all," he said.
"People are absolutely gobsmacked that this has happened, and that people, for personal and selfish gain, could cause such terrible injuries to an elderly lady, living alone minding her own business. It's just awful."
Mid Ulster councillor Frances Burton said elderly people living in the area had been "traumatised" by the burglary.
The DUP representative called for extra police officers in the vicinity and said the matter was raised during a meeting attended by the PSNI and councillors on Wednesday night.