PSNI appeal over 'stolen knockers and ding-dongs'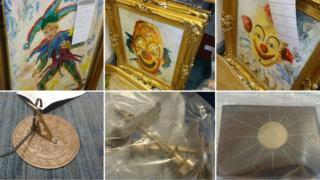 If someone has stolen your ding dong or knocker, the good news is that the PSNI may now have their hands on it.
Police have been investigating the theft of brass items from places of worship and homes across Northern Ireland.
Among the items recovered and returned to their owners are four brass door handles stolen from St Patrick's Catholic Cathedral in Armagh.
The handles had been on the cathedral doors since about 1890.
In an operation in County Armagh on Tuesday, £5,000 in cash and suspected stolen brass items were seized.
In a post on the PSNI Craigavon Facebook page, under a headline saying *Operation Dingaling update" the police said: "The floodgates have somewhat opened!
"We've had phone calls from across the country asking if we have various knockers, knobs and ding dongs. We now have a fair few of the items identified and linked to owners."
In an earlier post, they said: "As well as dingalings and knockers, we've also got some creepy paintings, a sundial, a large door handle, a pair of what are potential very old push/pull door bells and a small box."
Police believe the items were being sold online.
They have appealed for anyone who believes they own any of the items recovered to contact them.
'We want to get the ding dongs back to their owner'
They also want anyone who has bought such items online to get in touch.
"We want to get the ding dongs, knockers, paintings, figurines, and other assorted stuff back to their rightful owners," they said.
"Yes, we will do what we can to make sure you are reimbursed, but the priority is getting as many victims their items back as we can."
Police said they arrested a 35-year-old man in Armagh on Tuesday "on suspicion of the theft of brass antique door handles from a property in the city."
He was released on police bail pending further enquiries.
"Police have recovered a number of antique items and enquiries are ongoing," Insp Brian Mills said:.