NI paper review: Pensioner murder bid and Stormont talks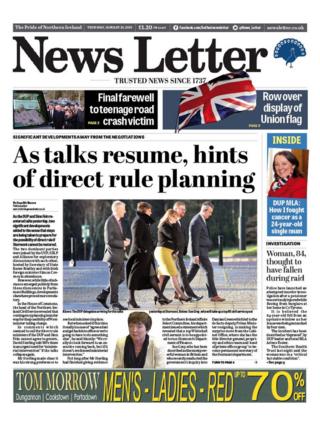 The attempted murder of an 83-year-old woman during a burglary in Aughnacloy, County Tyrone, features on the front page of The Irish News, and is accompanied by the stark headline - 'We found her lying on the concrete'.
The woman fell 12ft from an upstairs window as a gang ransacked her home on Tuesday night and she was discovered on paving stones at the side of her house.
Police believe that she may have fallen while trying to escape the burglars. It is thought a passing dog walker disturbed the gang who fled in a black car.
The Belfast Telegraph reports that the woman is a respected member of Aughnacloy Presbyterian Church and runs a poultry business.
The church's minister Rev Ian McKee, said the local community was "shocked and sickened" by the attack.
"I visited her in intensive care and she has a long road ahead of her," he added. "I think everybody is reeling from what happened."
Elsewhere, the efforts to secure a political deal at Stormont dominate the headlines, with The Irish News reporting that round-table negotiations are not expected to begin for at least 10 days.
Irish News political correspondent John Manley says that the DUP and Sinn Féin emerged from bilateral meetings in a positive mood, but that the smaller parties "remain frustrated by a lack of information about what was apparently agreed between Stormont's two biggest parties in previous rounds of talks last year".
The News Letter says two significant developments hint at the possibility that steps are being taken to prepare for the possibility of direct rule if devolution cannot be restored.
The head of the Northern Ireland Civil Service, David Sterling, told MPs on Wednesday that contingency planning is under way for the possibility of Westminster taking charge and that there was an urgent need for "ministerial intervention" if the talks collapse again.
After Mr Sterling had given evidence to the Northern Ireland Affairs Select Committee, his department revealed a leading Whitehall civil servant is to run Stormont's Department of Finance.
Sue Gray has been described as "the most powerful woman in Britain", according to the paper and is making the move from the Cabinet Office. It says much "remains unknown about the 60-year-old who in the 1980s took a strikingly unorthodox career break to run a pub in Newry, a hotbed of IRA and security force activity".
In 2015, BBC Newsnight's policy editor Chris Cook described Mrs Gray as "the most powerful civil servant you've never heard of" and "perhaps the most secretive you could ever hope to meet".
The Belfast Telegraph reports on the BBC NI's Spotlight programme which revealed the British government only made a four-page legal submission to the US authorities ahead of a crucial announcement that could affect 4,000 Bombardier workers in Northern Ireland.
'Creepy clown paintings'
In December, the US Commerce Department ruled the UK and Canada had given unfair subsidies to Bombardier to help it build its C-Series aircraft. The US Commerce Department proposed tariffs of 292% on any imported planes. On Friday, the International Trade Commission (ITC) will rule if Boeing has been harmed by the subsidies.
The Daily Mirror's front page reports that Peru drug smuggler Michaella McCollum is expecting her first child.
The 24-year-old from County Tyrone posted a picture of her baby bump on social media and wrote: "Wow had some crazy dreams...guess that's what happens when you're dreaming for more than one."
McCollum and Melissa Reid, from Lenzie, near Glasgow in Scotland, were jailed after being caught with 11kg (24lb) of cocaine in their luggage at Lima airport in August 2013. McCollum was freed on parole in 2016.
Meanwhile, if you are short of a few "creepy" clown paintings, you might want to contact the PSNI in Armagh.
The Mirror says that the items, which are believed to have been stolen, were recovered as part of a search earlier this week.
"As well as dingalings and knockers, we've also got some creepy paintings, a sundial, a large door handle, a pair of what are potential very old push/pull door bells and a small box." the spokesperson said.
Police say they have received calls about the door furniture, but the clown art has not been claimed.