Physician associates: Training for NI's first doctors' assistants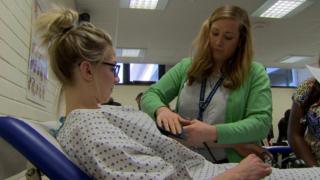 Twenty students in Northern Ireland have begun intense training which will see them becoming doctors' assistants.
They will be the first physician associates to qualify in Northern Ireland when they graduate from the Ulster University in 2020.
The role allows them to take a patient's history, make a simple diagnosis, carry out some physical examinations, formulate diagnosis and develop treatment plans.
They cannot prescribe drugs.
They also cannot order X-rays or work without doctor supervision.
'Perfect fit'
It is thought that the junior post, which falls some way between that of a nurse and a doctor, can help provide an intermediate level of care and also help reduce workload pressures.
Anne-Marie Buchanan is a lecturer in physician associate education.
"Physician associates are unique in that they are trained in a medical model unlike the other professionals - so they are very much like a doctor, though not a doctor, but they develop skill sets and attitudes to deliver the healthcare to patients in in multiple settings," she said.
One of the students, Jasmine Patterson, said the course was a perfect fit for her.
"I wanted to work directly with patients and help with the diagnosis so that meant I didn't want to do nursing, but I wanted something a bit more dynamic than medicine and being a doctor - so this fell into place perfectly," she said.
Professor Tara Moore founded the Postgraduate Diploma and said the physician associates would not replace doctors.
"They are trained to work in the health service and work alongside doctors, in partnership and under the supervision of doctors to deliver medical care as part of a multidisciplinary team," she said.
Physician associates are already in the healthcare system in England and Scotland.
The assistants have been working in the NHS for the past decade with more than 200 employed in 2014.
It is hoped the new posts will address Northern Ireland's growing workforce problem.
According to the Royal College of Nursing, there are currently 1,500 vacant nursing posts.
The last available workforce vacancies were published in March 2015.
Then it was reported that the overall vacancy rate of permanent posts that organisations were trying to fill in September 2014 was 2.8 per cent.
By March 2015, it had increased to 3.6 per cent. It's thought that figure has grown significantly.
A workforce strategy is underway but according to nursing and doctor unions can't be implemented quickly enough.
The two-year programme, which is open to graduates, started in 2017. Applicants must be graduates with at least a 2:2 degree classification (or equivalent overseas qualification) in a life science or health-related subject which must contain significant elements of basic medical sciences.
Last year's recruits are now in their second year of training and are on work placements.
Applicants must also have experience of paid or voluntary work with people, preferably in a health or social care context.