RHI scheme communication 'dangerous'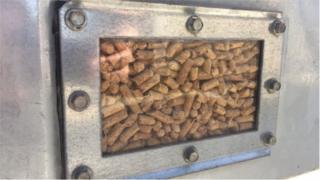 There was something "fundamentally dangerous" about communication structures surrounding a botched green energy scheme, an inquiry has heard.
The Renewable heat Incentive subsidised the cost of fuel to encourage the use of renewable heating systems.
But the fuel cost far less than the subsidy users were receiving, meaning they could earn by burning more fuel.
The inquiry was set up to investigate the circumstances surrounding the initiative, after its costs spiralled.
Inquiry panellist Dr Keith MacLean said more effort should have been made to find out how the £25m granted by the treasury for the scheme in Northern Ireland would be used.
The inquiry chairman said the Department of Finance and Personnel (DFP) should have sought more detail from the Department of Trade and Industry (DETI).
Sir Patrick Coghlin added he found it "difficult to understand why DFP lay back and said: 'Here's your pot.'"
The person in charge of the Northern Ireland Executive's budget process at the time the scheme was set up accepted that it wasn't "helpful" having so many different civil service teams from a number of departments communicating with each other..
Joanne McBurney also told the inquiry that not enough was done to ensure the budget for the RHI scheme wasn't "hit".
She said she assumed that DFP "would've sought assurances" from DETI that it could live within the £25m for the scheme.
"Obviously we didn't take enough action to make sure that was the case," she said.