Sammy Wilson accuses Irish of Brexit 'hissy fit'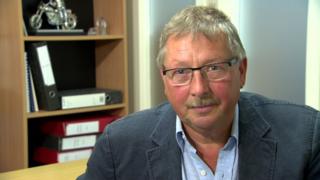 The DUP MP Sammy Wilson has said the Irish government is having "a very public hissy fit" over Brexit.
He was speaking during a session of the Commons Exiting the European Union Committee.
Last week Mr Wilson said he regretted his choice of language after he called Irish prime minister Leo Varadkar "a nutcase".
The DUP's Brexit spokesman made the comment after Mr Varadkar's speech to the European Parliament.
Mr Varadkar said that the UK could not "backslide" on border commitments made during Brexit negotiations last year.
Mr Wilson also described the all-island economy as "a nationalist myth".
'All-Island economy'
The phrase "all-island economy" was used in the December deal between the UK and EU.
The UK agreed that in the absence of an overarching agreement it will will maintain full alignment with the rules of the internal market and the customs union which needed to support North-South cooperation and the all island economy.
Mr Davis said an example of the all island economy was the single electricity market on the island of Ireland.
On the wider issue of maintaining a soft border Mr Davis talked at some length about the operation of US-Canada border, saying the arrangements there could be improved upon for the Irish border.
Last year the Irish prime minister visited the US-Canada border and said it "would not be desirable on the island of Ireland".