Stormont's corridors busy again - for now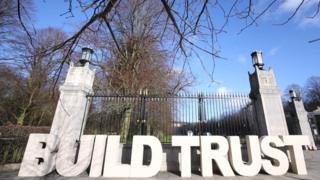 Strolling around the assembly building in recent months, the place has sometimes felt like a ghost town, its corridors bereft of the politicians and officials scurrying to and from meetings which used to be its lifeblood.
Not today.
With both inter-party talks and the judicial inquiry into the Renewable Heat Incentive scandal taking place in Parliament Buildings, the corridors are well occupied by people evincing a sense of purpose.
Staff in the basement canteen (the only Stormont institution which has continued to function smoothly throughout the shutdown) are busying themselves for the arrival of hungry negotiators.
Some unionists don't like the fact that a number of talks sessions are expected to take place inside Parliament Buildings.
That's because they see the assembly HQ as symbolic of Strand 1 of the Good Friday Agreement - the section restricted to the internal affairs of Northern Ireland.
TUV leader Jim Allister is annoyed that five Irish officials have been given "unfettered access" to the building.
He claims the UUP and DUP are accepting "the involvement of a foreign government on our internal affairs without a whimper".
The Stormont press corps, by contrast, is happy about any negotiations taking place at Parliament Buildings.
This is for the entirely non-political reason that the place is warm, dry and easy to broadcast from.
By contrast, talks elsewhere on the Stormont estate tend to mean reporters huddling around the statue of Lord Carson.
It provides an impressive backdrop, but often at the cost of challenging meteorological conditions - especially in January.
No compromise?
Whether the press is cosy inside or freezing outside, the issues the negotiators are struggling with remain wearily familiar.
Despite protestations from the new Secretary of State Karen Bradley that a deal was tantalisingly close last autumn, there is no public indication of how compromise on the Irish Language, same sex marriage and Troubles legacy institutions might be reached.
Indeed just this week in the Dail, Sinn Féin leader Gerry Adams challenged Taoiseach Leo Varadkar about the difficulty in compromising on what he portrayed as fundamental human rights issues.
While reminding Mr Adams of his party's responsibilities regarding good governance in Northern Ireland, the taoiseach agreed that rights which are enjoyed elsewhere in Britain and Ireland should also apply in Northern Ireland.
There's no question that DUP Leader Arlene Foster would prefer to be occupying the first minister's offices at Stormont Castle and the assembly building, rather than talking about how the executive might be put back together again.
However, a compromise on the "red line" issues could be difficult to sell to her grassroots, and there is more than a suspicion that some DUP MPs are content with a slide towards direct rule which puts them centre-stage in NI politics.
Indeed there's increasing frustration within the DUP's Westminster ranks about the way the long-winded Stormont talks have delayed the distribution of their £1b confidence and supply cash.
The secretary of state insists her report back to MPs on 7 February isn't a deadline for these talks, but a "milestone".
However the head of the civil service, David Sterling, says that "it will be incredibly difficult" if there is no certainty over the Stormont budget by 8 February.
Put that together with DUP MPs' impatience and Sinn Féin arguing there is no public appetite for an open-ended negotiation and it looks like these discussions will come to a head some time next month.
After that Parliament Buildings could, theoretically, once more become a hub of urgent legislative work as our MLAs make up for lost time.
Or its corridors may once again empty out, with only the continuing inquiry into the scandal which brought down the Executive providing any semblance of activity.