Northern Ireland budget 'must be in place by 8 February'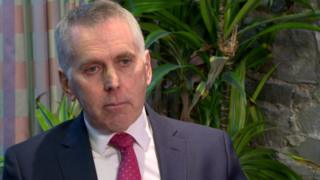 There needs to be certainty and clarity about a budget for Northern Ireland by 8 February, the head of the civil service has said.
David Sterling said that without a budget in place for the next financial year it will be very difficult to deliver services.
He was giving evidence to Westminster's Northern Ireland Affairs Committee.
Secretary of State Karen Bradley has said she will update MPs on the progress of the talks on 7 February.
DUP MP Gregory Campbell asked Mr Sterling about the timings for an agreed budget.
Mr Campbell raised the issue of parliament going into recess after Mrs Bradley's statement.
"In my view it will be incredibly difficult for us if we do not have budget certainty by the 8th of February," Mr Sterling replied.
Last year, Stormont's budget was passed at Westminster but then secretary of state James Brokenshire said it was based on what had previously been agreed by the Northern Ireland Executive.
This year's budget will also need parliamentary approval in the absence of an Executive.
Another DUP MP, Ian Paisley, raised the issue of extra money negotiated as part of the confidence and supply arrangement between the Conservatives and the DUP agreed last summer.
'You have won the lottery'
Mr Paisley said people were frustrated that the money was not being allocated.
He described the extra £1bn negotiated last year as "cherry-on-top money".
The North Antrim MP wondered if there was "reluctance" in the Northern Ireland Civil Service to spend the money.
"You have won the lottery, please spend the money," he said to Mr Sterling.
Mr Paisley added that ordinary people want the money spent on issues like improving mental health and broadband and don't not understand why there is a delay over the cash being used.
Mr Sterling responded that his officials needed policy directions before those decisions could be taken and said his staff needed certainty about the overall budget for Northern Ireland.
Hugh Widdis, the permanent secretary for the Northern Ireland Department of Finance, told MPs that a department can not lawfully spend money until it has been "appropriated to it".
He added that the "mere fact that it is in the confidence and supply document is not enough".
Strangford MP Jim Shannon said people on the ground in Northern Ireland were concerned when they heard that the extra money negotiated last year was not being spent.
"It seems decisions are being put off rather than being made," he said.