NI weekly paper review: Heroin fears and pothole perils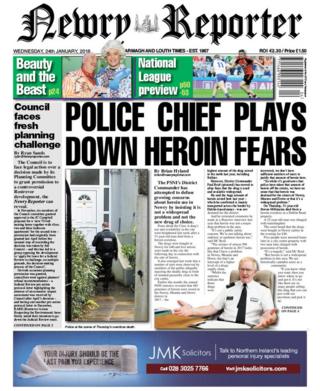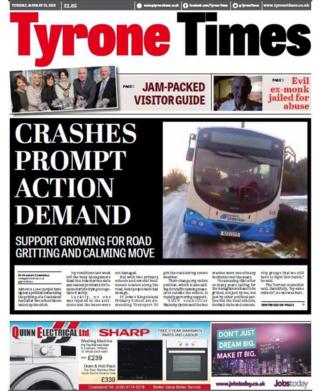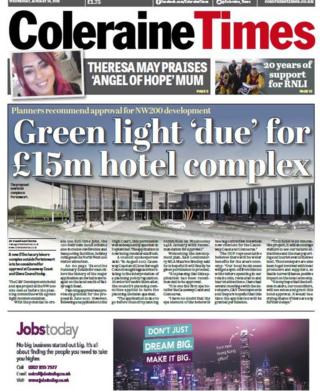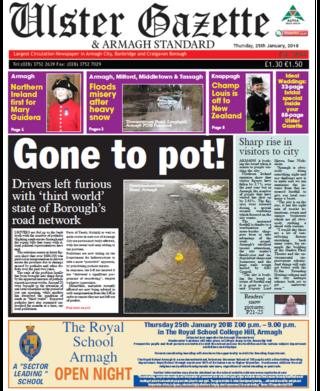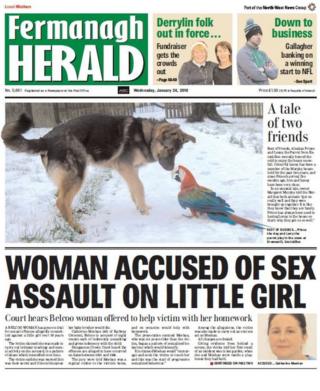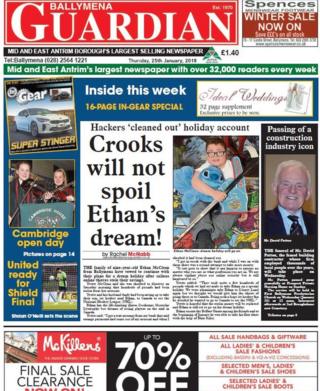 Heroin use fears, damaging potholes and a heartwarming friendship between a parrot and a dog are among the images, stories and headlines jumping out from Northern Ireland's local newspaper front pages this week.
We start with the Newry Reporter, which has the front page headline: "Police chief plays down heroin fears".
It reports that the PSNI's district commander, Paul Reid, has attempted to defuse growing concerns about heroin use in the city.
The newspaper says that fears around the drug have intensified after a 51-year-old man died of an overdose, while others were observed openly "shooting up" close to the city centre.
Meanwhile, earlier this month, PSNI statistics revealed that 485g of heroin were seized in the Newry, Mourne and Down area in 2017 - the highest amount of the drug seized among districts in Northern Ireland.
However, Mr Reid says the drug is "not a public safety concern".
"The seizure of almost 500 grams of heroin looks like I have a problem in Newry, Mourne and Down, but that's an intercept of a higher level of a drugs supply chain," he said.
"While it's good news that police have taken that amount of heroin off the streets, we have no sense that heroin was destined for the streets of Newry, Mourne and Down or that it's a widespread problem."
Elsewhere, the paper focuses on Tomm Moore, the Newry-born animator and filmmaker whose talents have taken him right to the heart of Hollywood.
Mr Moore is a co-founder of Kilkenny-based animation studio Cartoon Saloon, and has previously received Oscar nominations for his films The Secret of Kells and Song of the Sea.
This year his studio is once again represented at the biggest night in Hollywood, after its latest film The Breadwinner, which features Angelina Jolie as an executive producer, was nominated in the best animation film category- although he played down the film's chances.
"I felt this year we might have won," he told the Newry Reporter. "But Coco is a class film and it's a pity in a way for us that it's such a good film, because I think otherwise we would have had a good chance, especially with the star power of Angelina and the topicality of the subject matter."
Over in the Fermanagh Herald, the paper reports on a possible double blow for bus services in the county.
Across pages two and three, it reports that rural bus routes could be set for the chop and also that changes to the Bus Éireann Dublin to Donegal service could affect locals.
Bus routes are under threat because of £13m losses being suffered each year by Translink - leading to fears that some local rural routes could go.
Meanwhile, the paper also reports that the Dublin to Donegal service, which travels through the county, could stop less frequently in towns including Belleek, Belturbet, Bellanaleck and Derrylin.
It says the service, which is popular with locals travelling to Dublin Airport, will run 13 times a day but only every second service will make stops outside of Enniskillen.
The front page, at least, has something cheerier to get your beak into with a lovely image of (kind of) birds of a feather - Lenny the Parrot and Prince the Alsatian.
The pair, members of the Murphy household in Enniskillen, have been best friends since Prince's arrival five months ago.
"They were brought up together," said Margaret Murphy. "It's like they know that they are family."
Meanwhile, Armagh's roads have "gone to pot" according to the front page of the Ulster Gazette.
It reports that local drivers are fed up with the "number of potholes blighting roads" across the county.
One councillor told the newspaper he had received reports about 20 potholes in the span of a single morning.
"From Middletown to Keady and that's just the number that have been repeated to me," said Sinn Féin councillor Darren McNally.
Earlier this week it was revealed that £500,000 has been paid out in compensation payments to motorists in Northern Ireland whose vehicles were damaged by potholes and other road defects in the past two years.
The Department of Finance has said "public safety" remains a priority and that "any decisions on budget allocation will be for a future minister for infrastructure".
Elsewhere, the paper reports a first after an Armagh woman became the first woman from Northern Ireland to join the red-coated ranks of the Chelsea Pensioners.
Mary Guidera left her home last month to live in London with over 300 Army veterans who live in a community at the Royal Hospital Chelsea.
She began an army career with the Royal Signals and served during the Malayan conflict in the late 1940s.
And, with her son and his family setting up a home in London, moving across suited her perfectly.
"It is lovely having her in London but more than that it has given her a new lease of life and she is really enjoying the experience," her son told the paper.
The Ballymena Guardian reports how online thieves stole hundreds of pounds from a bank account which was meant to send a nine-year-old boy with a rare muscle-wasting disease on a dream holiday to Canada.
Yvette McClean and her husband Andy had been saving the cash so their son Ethan, who has Duchenne muscular dystrophy, could see an ice-hockey game in the National Hockey League (NHL).
Yvette said she got a text message from her bank that said "strange payments" had come out of her account and when she checked "it had been cleaned out".
Ethan's mum is hopeful that the stolen money will be replaced and he is still set to go on the trip. The young sports fan counts the Belfast Giants among his pals and at the start of this month he was able to take his first skate with the team's star forward Blair Riley.
The Coleraine Times reports that a woman from the town has been recognised by the prime minister for her work in creating the first memorial garden in Northern Ireland to support parents grieving the loss of a child.
Andrea McAleese's three-year-old daughter Roma was killed in a car accident nearly nine years ago.
She later focused her grief on "raising money to help other bereaved parent's in Roma's memory" and the Angel of Hope Memorial Garden was opened in 2015.
Andrea, who consistently maintains the garden, has now received the Points of Light award which recognises outstanding volunteers who are making a change in their community and inspiring others.
In a letter, Prime Minister Theresa May said Andrea had "responded to a personal tragedy with tremendous strength".
A campaign for gritting and traffic calming measures along a busy Coalisland road is the focus of the Tyrone Times' front page after two buses ended up in a ditch during icy conditions last week.
The paper says the Annaghmore Road was in a treacherous state, posing problems for motorists attempting to negotiate it safely.
Almost 1,000 people have signed an online petition from St John's Kingsisland Primary School demanding the road is gritted during severe weather.