HIA report: Bishop urges action over abuse survivors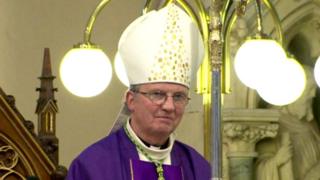 The Catholic Bishop of Derry has urged politicians to prioritise the implementation of recommendations for survivors of institutional abuse.
Bishop Donal McKeown made the comments a year after the publication of a report by the Historical Institutional Abuse (HIA) inquiry.
It made a variety of recommendations including compensation, a memorial and a public apology to abuse survivors.
These have not been implemented since the collapse of devolution.
A fresh round of political talks aimed at restoring devolution in Northern Ireland is expected to begin on Wednesday.
Last December, the head of the NI civil service wrote to victims explaining payments would be open to legal challenge without ministerial approval.
The HIA was established to examine allegations of child abuse in children's homes and other residential institutions in Northern Ireland from 1922 to 1995.
The inquiry, which was chaired by Sir Anthony Hart, published its findings in January 2017.
In a statement, Bishop McKeown said the year-long absence of power sharing at Stormont has "dashed" survivors hopes of redress as outlined in the report.
He added: "In that time, more former residents of homes have died and others have continued to suffer in different ways.
"Scars inflicted in childhood affect people throughout their lives. Families, spouses and children can also suffer.
"In the upcoming talks, I encourage our political leaders to prioritise the full implementation of the Hart recommendations.
"The needs of the suffering are more important than anything else."
Last week, Clint Massey, who suffered sexual abuse at a Belfast boys' home, made an emotional plea for politicians to "stop bickering".
Mr Massey suffers from lung and brain cancer, and said he "wants to be here when this is finally wrapped up".