Anger as school calls Martina Anderson 'Past Pupil of the Day'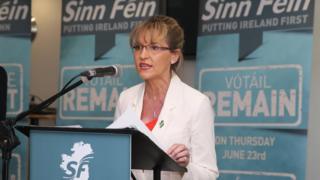 A Londonderry school has been criticised for featuring Sinn Féin MEP and former IRA woman Martina Anderson as its past pupil of the day.
She featured in a post on St Cecilia's secondary school website with the hash tags #Aspire, #Endeavour and #Achieve.
But unionists reacted angrily to the school's decision to portray her as a role model, calling her a "convicted and unrepentant PIRA terrorist".
A DUP man said the school's action was "ridiculous, shameful and shocking".
Others accused the school of "glorifying" her, says the Belfast Telegraph .
Ms Anderson was a member of the Provisional IRA and was convicted of conspiracy to cause explosions. She was in jail for 13 years before she was released under the terms of the Good Friday Agreement.
Since then, she has played a leading role in Sinn Féin and took over as MEP from Bairbre de Brun in 2012.
On her Twitter feed on Tuesday, Ms Anderson shrugged off the angry messages.
"Sure if you didn't laugh, you'd cry!" she said.
Tweeting about her old school, she said it was "great" and taught everyone to work together for equality.
However, in a tweet, DUP MLA Gary Middleton said there was "nothing aspirational about an unrepentant terrorist".
DUP councillor David Ramsey said the decision to put her forward as a role model was "ridiculous, shameful and shocking".
Others called it "unbelievable" and asked what message did this send out.
The school features Ms Anderson as one of a series of aspirational past pupils, all of whom have been given the same #Aspire hash tags.
A Sinn Féin spokesperson said the party "welcome the fact that the school has recognised former pupil Martina Anderson.
"Martina is a first-class public representative who achieved so much for so many.
"As an MLA, former minister and MEP she has worked hard in the interest of all citizens and is currently campaigning for special status for the north to remain within the European Union."
The school was contacted, but did not comment.