North-south energy project given final go-ahead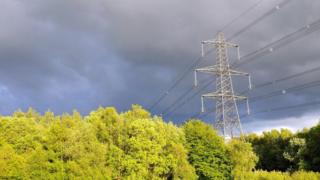 The Northern Ireland section of a new £200m cross-border energy project has been granted planning approval.
It paves the way for work to finally start on the north-south electricity interconnector later this year.
The link-up between the two power grids has been long delayed, with environmental opposition to pylons between Tyrone and Meath.
Those behind the project have said it is needed to ensure the security of NI's electricity supply.
Too expensive
The project, which already has planning approval in the Republic of Ireland, will take around three years to become operational.
It will involve pylons for 85 miles (138km) of overhead cables and mean about 100 new pylons in Northern Ireland.
Opponents had campaigned for cables to be put underground for health and environmental reasons, but this was dismissed as being too expensive.
Business organisations back the interconnector, arguing it will reduce costs and ensure Northern Ireland has the supply to meet demand in years to come.
The interconnector is a joint project between the System Operator for Northern Ireland (SONI) and EirGrid in Ireland.
Robin McCormick, general manager of SONI, said the interconnector was "undoubtedly the most important infrastructure scheme on the island of Ireland today".
'Lights-out scenario'
The decision was taken by civil servants at the Department for Infrastructure in the absence of a minister at Stormont.
Business organisation Retail NI said the decision was "excellent news" as it would secure the electricity supply and "in the longer term, lower energy bills".
Northern Ireland's Utility Regulator said it was a "double boost for local energy consumers".
"Consumers are currently paying around £20m per annum because of the absence of the north south interconnector and the resulting limitations on the flow of electricity," said chief executive Jenny Pyper.
NI's Chamber of Commerce and Industry said the interconnector would "allow the all-island wholesale electricity market to work more efficiently, enabling wider competition between power generators and electricity suppliers".
Kirsty McManus, from the Institute of Directors Northern Ireland, said the decision had finally put to rest what had been the "very real prospect of a lights-out scenario for Northern Ireland" and the project would be a "major game changer for the local economy".