Irish prime minister stands ready for Stormont talks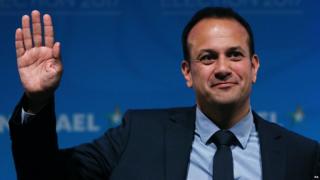 The taoiseach (Irish prime minister) has said he is ready to get involved in talks due to begin at Stormont on Wednesday if he thought it could help.
Leo Varadkar said if rights on same sex marriage or language applied elsewhere in the UK or Ireland he did not see why they should not apply in NI.
He said the best way to achieve this was not through it being dictated from Dublin or London.
The way forward was by having the Stormont parties form a government, he said.
Pulled the plug
Northern Ireland has been without a devolved government since 9 January 2017, when Sinn Féin pulled the plug on its power-sharing coalition with the Democratic Unionist Party (DUP).
The two parties have failed to find a resolution in spite of several rounds of talks.
Answering questions from Sinn Féin president Gerry Adams in the Dáil (Irish parliament), the taoiseach said that while rights are important it was also essential to have a Northern Ireland voice in relation to Brexit and to focus on practical day-to-day issues.
He reminded members of the Irish parliament that Sinn Féin previously held both the finance and health portfolios at Stormont, noted the problems arising in both areas and argued that people should not use demands for rights as a way of not taking responsibility.
Mr Varadkar said the tánaiste (deputy prime minister), Simon Coveney, would be in Belfast on Wednesday for the talks aimed at re-establishing devolved government, and that he would discuss Northern Ireland with Prime Minister Theresa May at a conference they are both attending later in the week.
Mr Adams said that the taoiseach should avoid the temptation to portray the difficulties at Stormont as being "the fault of two problem parties".
He asked Mr Varadkar what rights he wanted Sinn Féin to compromise on.
Mr Adams also urged the taoiseach to meet people from north of the border outside the political parties to get a deeper sense of what is happening.
Dissident group
Both leaders welcomed the announcement of a ceasefire by the dissident group Óglaigh na hÉireann.
Ulster Unionist MLA Steve Aiken said Sinn Féin should not be allowed to hold Northern Ireland and its people to ransom.
He said that if the talks failed: "It is incumbent on the UK government to take responsibility and ensure that Northern Ireland has some form of functioning government, whether that is a voluntary coalition or move to direct rule."