Subdued forecast for NI economic growth from Danske Bank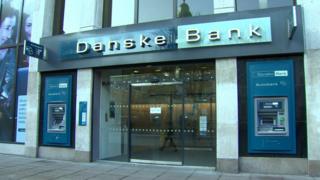 Northern Ireland's economy grew by just 1.1% in 2017 and growth is expected to remain subdued over the next two years, Danske Bank has forecast.
Household spending power will remain under pressure due to weak growth in wages, Danske Bank economist Conor Lambe said.
Brexit-related uncertainty and the lack of a devolved government at Stormont has "created a climate that is holding back investment", he added.
There are difference across sectors.
'Slowdown'
The information and communication sector, which includes IT, is expected to grow by 3% compared to 1% growth for the economy as a whole.
Mr Lambe said he expected a slowdown in jobs growth to continue with a decline in employment forecast for the final quarter of this year.
This follows a long period of jobs growth which has seen private sector employment in Northern Ireland reach record levels.
The forecast also suggests the UK economy as a whole will grow by 1.5% in 2018, down from an estimated 1.8% in 2017.
Mr Lambe also said that inflation in the UK will fall gradually over the year ahead, but still average 2.6% in 2018.