When hospital beds are like gold dust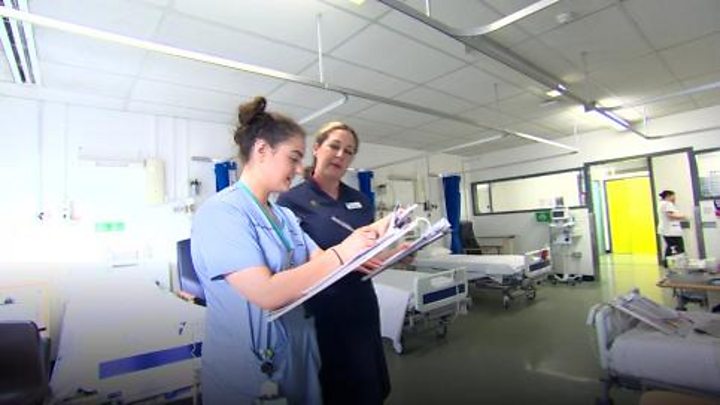 Within 30 minutes the Royal Victoria Hospital's (RVH) emergency department receives three patients with very different complaints.
A 79-year-old man is admitted with a lung infection and is described as being seriously ill, a woman in her eighties is brought in by ambulance with suspected pneumonia, and a 75-year-old man arrives in his pyjamas with breathing problems.
All three people require beds and represent just a snapshot of 24 hours inside the Belfast Royal Victoria Hospital's emergency department.
Last Friday, BBC News NI was given exclusive access to see how beds are found for patients and why in some cases people have to wait 12 hours or more to be admitted.
Through the day, 238 people walked through its doors - 51 of those required a hospital bed before they could be admitted.
It is this constant demand for beds that is putting the greatest pressure on the system.
While there are a total of 1,317 beds in Belfast's main Royal, Mater and City hospital sites, the RVH requires about 80 beds per day to cope with emergencies alone.
Finding beds
Patricia Ferguson is a nurse with 20 years of experience, and is responsible for keeping patients flowing through the system. It is a tough job.
At 11:00 GMT, Patricia is trying to find beds for eight very sick elderly men and women.
While Patricia is part of a team, she is its chief co-ordinator and never without her most important possession - her mobile phone: It keeps her in contact with everything happening across Belfast's three main hospitals.
"It's all about team work," she tells BBC News NI.
"We are all working extremely hard, not only trying to place today's patients but also we are wary that we are approaching the weekend when it tends to get busier."
"Compared to the rest of the week today isn't too bad. There is flexibility in the system."
During that brief conversation, Patricia's phone rang twice: It does not really stop for the rest of the day.
One of the calls is about Alexander McCristen, who is due to be discharged after spending a week in hospital.
As the 79-year-old lives alone in a flat his support team, which includes a social worker and a physiotherapist, want him placed initially in an interim bed in a care home.
The discharge process begins.
"Do I hate my phone? No, not really, but it does ring constantly," says Patricia.
"I am very aware of it, especially when I am with patients and their families and it's ringing.
"But I need it - in fact, I couldn't do my job without it."
At 12:00, she is ensuring that patients who are well enough to be discharged are moved as quickly and safely as possible.
Moving patients
Hospital beds are like gold dust and they are nearly always in demand.
A call from Ward 5F informs her that Mr McCristen is ready to go to the discharge lounge.
That means while he is one step closer to leaving, another patient is one step closer to getting the bed.
Finding beds is almost like a game of chess - one good move can create several empty spaces and in Patricia's world that means empty beds.
"It's not just about finding a bed - it has to be the right bed," she says.
"For instance, our man brought in earlier with breathing problems must be admitted to a male ward - after tests he may need to be isolated if it's flu.
"It's not always a straight forward equation."
Pyjama delay
After 45 minutes, there is another call about Mr McCristen.
While a bed has been identified in a care home, as he was brought in wearing only pyjamas his discharge will be delayed until suitable clothes are found.
Every two hours the teams leave their respective bases to join a "safety huddle" meeting.
This is an opportunity to talk beds, and even barter if necessary.
The first huddle starts at 10:00 with the last one at 20:00.
The challenge of finding beds is on everyone's mind, including Brian Armstrong, who is co-director of the Belfast Health and Social Care Trust and says these meetings are a critical part of the day.
The Belfast team is joined on a conference call by their counterparts at the Mater and Ulster hospital sites.
"We are trying to maximise the flow of patients and speed up the patient's journey wherever possible," says Brian.
"The recent surge in flu and respiratory patients has made it very difficult. While more people are coming in the front doors we need patients to be fit enough to go home in order to free up their beds."
The 14:00 huddle reveals that a further 10 people should be discharged across the three sites by mid-afternoon. People around the room are visibly relieved.
Workforce planning issue
So, should Northern Ireland have more beds ? According to Brian Armstrong more beds are not the solution.
"It's not just about more beds - we need the staff to manage them and as it has been widely reported there aren't enough nurses in the system to do that," he says.
"So workforce planning is an issue, and one that is being addressed but for us not fast enough."
A call informs Patricia that Mr McCristen is in the discharge lounge, but an ambulance is required to bring him to the care home.
A porter has been instructed to bring him a cup of tea while he waits.
Patricia is nearing the end of her 12-hour shift. Over the Christmas holiday period a 14-hour day was the norm.
As a mother of three boys she has a lot to juggle.
"Today hasn't been the busiest of days - but we all got through it," she says.
"It's a challenge but at the end of the day I go home knowing I have helped people - there's no better feeling like that."
And as she walks away, her mobile phone starts ringing.