Karen Bradley 'pragmatic' on post-Brexit border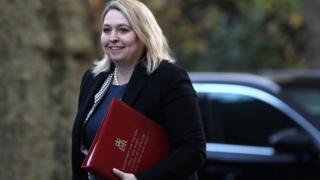 The Northern Ireland Secretary has said it "simply isn't tenable" to have different agricultural rules for one side of a field from the other side of a field after Brexit.
Karen Bradley was giving evidence to the House of Lords EU Committee.
She was asked about sectors where UK and EU rules would need "full alignment" in order to maintain a soft border.
Mrs Bradley said: "We are all pragmatic."
The committee is conducting a follow-up inquiry on Brexit and UK-Irish relations.
Issues for discussion include:
How the government envisages "technology based solutions" will help manage the border between Northern Ireland and the Republic of Ireland post-Brexit
How the ongoing suspension of the power sharing institutions in Northern Ireland is affecting the process
What steps the UK Government is taking to ensure the interests of all communities are represented
The Brexit Minister Robin Walker was asked about the December deal between the EU and UK.
Under that agreement, the government said that in the event of no final overarching deal it would still commit to fully aligning with the rules of single market and customs union which are necessary to support north-south cooperation.
Mr Walker was asked if the UK government is in agreement with the EU about which sectors would need to be fully aligned.
He was reluctant to be explicit about this, saying that the first priority was to reach that overarching deal.
'Sensible co-operation'
In terms of areas of potential full alignment he said: "We need to work through that in detail."
He gave the single electricity market and animal health as examples of areas of "sensible and necessary co-operation".
These areas were mentioned in a British government paper published in August last year.
The Irish government view is that an alignment deal would need to cover a broad range of areas.
In December, Irish Foreign Minister Simon Coveney said: "I think it is important that people look at the wording that is actually agreed rather than give opinions on what should be agreed. The wording is very clear, it is quite broad in terms of its scope."