Michael Cullen: Family of missing man in Dashcam appeal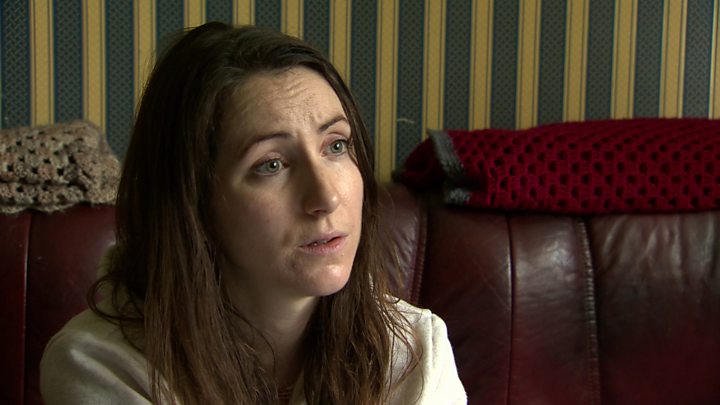 The sister of a man missing for nearly a fortnight has pleaded with people to search their memories and any Dashcam footage that might help trace him.
Michael Cullen, 33, from north Belfast, was last in contact with his family at 14:00 GMT on Tuesday 9 January.
Police have launched a major investigation and are sifting through hundreds of hours of CCTV footage in the hope of finding him.
Michael's sister, Catherine, said his family were "struggling to cope".
"We are distraught. We are thinking about Michael 24/7. We really need to know he is okay," she said.
"We don't know where he is. We do know on 9 January where he was from 13:00 - in the Boucher and Lisburn Road area."
The Cullen family have appealed to people to think back and, if they have Dashcam or CCTV footage taken in south Belfast, to examine it closely for a sighting of Michael.
"We have got this one particular area we know he was in," she said.
"We need to find this one point we can track him from. We don't know where he has gone, we don't know where he is right now, we just know where he was on that one particular day.
"It is all we can go on.
"We know 100 percent he was in the Lisburn Road area," she said.
"Taxis, delivery vans, members of the public - you could have picked him up at some point, even very briefly.
"We really, really need you to check to see if you can find any images of him."
Catherine Cullen said her brother is a wonderful person.
"He is loved by everyone. He is such a funny charismatic, wonderful beautiful person I can't say enough how much everyone loves him," she said.
Michael Cullen is five feet 11 inches tall with dark hair and a beard.
When last seen, he was wearing a green puffa jacket, grey jumper and black trousers.
He is a research officer at Ulster University and an award-winning beatbox performer.
His face stares out of "missing" posters on lamp posts across the city and on flyers.
His family and friends have joined police in a search for him across Cave Hill where he regularly walked.
Police brought in a helicopter and drones to help locate him.
Volunteers have been asking about sightings of him in coffee shops in Belfast's Boucher and Lisburn Roads.
More recently, they have searched along the Lagan towpath near the Lockkeeper's Cottage.
His face was flashed up on the big screen at an Ulster Rugby match last weekend.
Since Michael's disappearance, more than £3,000 has been raised via a JustGiving page to help boost search efforts.
More than 3,600 people have "liked" the Help Find Michael Cullen Facebook page.
According to figures published last August, the PSNI receives more than 13,000 missing persons reports each year.
That works out at an average of 35 calls a day.