Nineties 'Divided Society' archive opened
By Robbie Meredith
BBC News NI Education Correspondent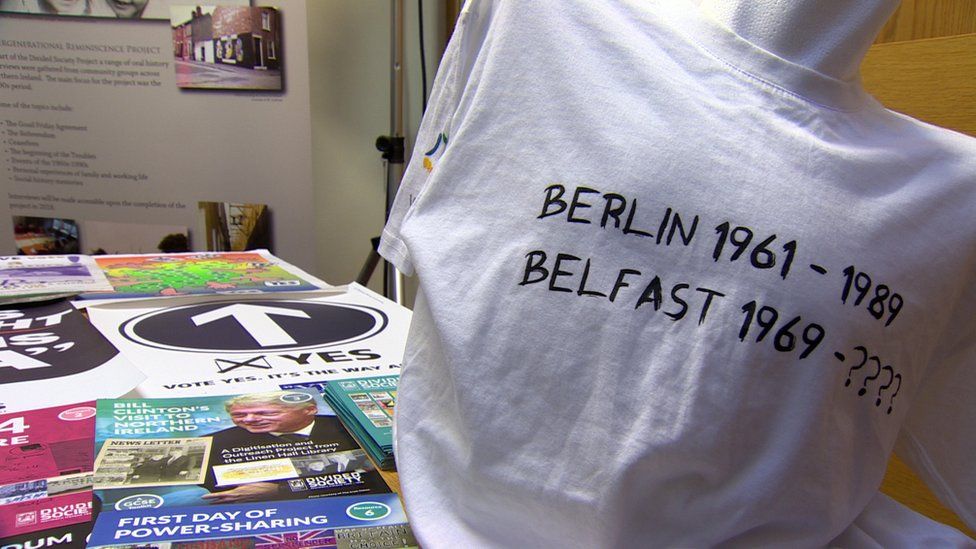 A unique archive of political documents, articles and posters from Northern Ireland in the 1990s is being made available online.
Belfast's Linen Hall Library is providing access to the material from its political collection.
The library has been working on the project, which has cost around £500,000, since 2014.
Founded in 1788, the Linen Hall Library is the oldest library in Belfast.
Since the 1960s it has collected leaflets, articles, magazines, posters and other artefacts related to the Troubles and the peace process in Northern Ireland.
That collection contains more than 300,000 items.
Many of those from 1990-1998 will now be available online.
The library's director Julie Andrews said they had chosen that decade after extensive consultation.
"We did online surveys, held focus groups in local communities, talked to specialist groups, political commentators and politicians and sent an online survey to universities in the USA," she said.
"The resounding answer we got was that the 1990s was the period everyone was most interested in - from the Hume/Adams talks up to the Good Friday agreement.
"I think that's because it was a peace and reconciliation period in Northern Ireland.
"Internationally, students are very interested in that, and for many years people have been coming to the library to study that period anyway."
The money for the project has been provided by the Heritage Lottery Fund, the Republic of Ireland's Department of Foreign Affairs and Ulster Garden Villages.
It has involved putting all the material from 512 journals and magazines from and about Northern Ireland online, as well as other audio-visual material.
Around 800 political posters from the decade can also be viewed on the website.
With many political groups now using social media extensively, Ms Andrews said that posters have become less eye-catching.
"We have political posters from the entirety of the troubles, although we focused on the 1990s in this case," she said.
"I think modern posters are calmer and more neutral, while I think the political posters from 20 or 30 years ago were very interesting from an historical point of view and very visual.
"Like all the material in the collection they come from a very wide-ranging perspective.
"They give people completely different viewpoints and then people can make up their own minds about situations."
The library has also produced a number of study guides about 1990-1998 for GCSE history students as part of the website, which can be accessed here from 1300 GMT on Monday 22 January.