NI man reunited with Vietnamese mother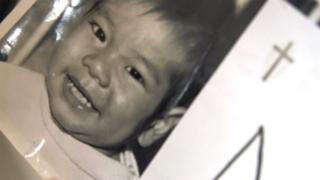 A man who was plucked from war-torn Vietnam to Northern Ireland as a baby has been reunited with his birth mother, more than 40 years later.
Vance McElhinney was one of about 100 children flown to safety in 1975 and believed his Vietnamese mother was dead.
But after meeting just once, Le Thi Anh was already convinced that Mr McElhinney was her son.
"A DNA test was crucial for me," Mr McElhinney told Radio Ulster's Sunday News programme.
"I wanted to lay a few ghosts to rest, but she was already convinced.
"I hardly knew this woman, but she kept saying 'this is yours, this is your house', she wanted to sign everything over to me straight away."
The pair were brought together after Mr McElhinney took part in a BBC Northern Ireland project, A Place To Call Home.
'No resentment'
Through the project he was able to return to the orphanage in Saigon and meet the key figures from his evacuation.
After the programme aired he was inundated with messages from people claiming to be relatives.
One woman, who claimed to be his cousin, produced a photo of a man she said was his father.
When he agreed to meet with the woman he was shocked to find that she had brought along his mother.
Le Thi Anh was happy to supply him with whatever he needed for the test.
"She never made a fuss, she said 'there's the samples, you go do whatever you need, but you are my son'," he said.
Mr McElhinney, who was raised by Cyril and Liz McElhinney in Lurgan, County Armagh, is planning a second trip to Vietnam for February.
"I have no resentment about what happened to me," he said.
'Emotional'
"My mum was so grateful that I was here in Northern Ireland and getting a better life and she was relieved that I was alive.
"It is for me now to stand up and be the son she never had and look after her.
"The last time I saw her she was maybe my mum and this time I know she is.
"It will be very emotional."
Mr McElhinney described finding his birth mother as "a blessing", adding that although she speaks no English and he speaks no Vietnamese, they communicate through "gestures, hugs, kisses and holding hands".
"There's a family bond there," Mr McElhinney said.