James Brokenshire undergoes lung surgery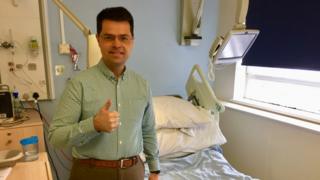 Former Northern Ireland Secretary James Brokenshire has undergone lung surgery.
Mr Brokenshire tweeted that he had been discharged from hospital on Saturday morning.
The MP for Old Bexley and Sidcup stood down from his role in Northern Ireland in January because of concerns about his health.
He said recent tests had confirmed that a "small lesion" needed to be removed from his lung.
Mr Brokenshire paid tribute to NHS doctors, nurses and support staff, saying they were "absolutely outstanding".
"I could not have been in better hands," he said.
He also said he would be "taking things steadily" and that "recovery and recuperation" were ahead.