NI newspaper review: Blackout, bust-up and flu 'epidemic'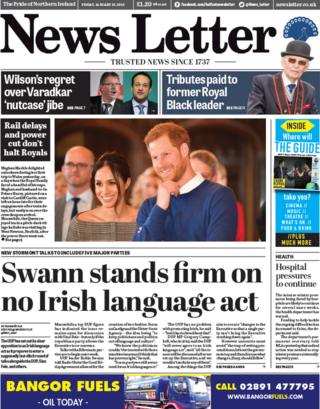 There is a blackout warning, a flu "epidemic" and only two weeks left to save Stormont, according to the dramatic headlines in Friday's papers.
The Daily Mirror leads with confirmation that a total of eight people have died in Northern Ireland during this winter's flu season.
It says the outbreak is the worst in seven years, with more than 8m people suffering from symptoms across the UK.
The Irish News says three of the eight NI flu deaths were over the past week.
'Catastrophic'
It quotes Stormont's top health official saying that the local health service is facing "intense challenges" due to ongoing winter pressures.
The permanent secretary of the Department of Health, Richard Pengelly, said the demand on hospitals is "not expected to ease for a number of weeks".
Funding to address the problem has now been increased to £10m, but the News Letter says health officials warned MLAs that 2018 will be a "very challenging year".
The cash-flow crisis continues in the Belfast Telegraph, which warns that it could soon be lights out for Northern Ireland.
It paints a "catastrophic" 2020 vision of the future, saying all streets lights could be "switched off" within two years, as the Department of Infrastructure runs of money to pay for lighting and road repairs.
The paper has seen an internal briefing document which lays out the worst and best case scenarios, as civil servants continue to struggle with cuts in the absence of ministers.
Public service union representative Michael Robinson describes the situation as a "shocking state of affairs".
"It's down to something as basic as paying the electricity bill," he tells the Telegraph.
Devolution deadline?
The Mirror tells MLAs that they have "two weeks to save Stormont" after the new Secretary of State Karen Bradley announced fresh talks aimed at restoring devolution.
But the paper points out that Ms Bradley's statement "did not set deadlines for specific goals".
The News Letter also says the talks have been billed as a "last ditch" attempt to broker a power-sharing deal.
It adds her predecessor, James Brokenshire, saw "his credibility shredded by repeatedly setting deadlines and allowing the parties to ignore them".
Unlike the last round of failed talks that only involved the DUP and Sinn Féin, all five main parties have been invited to take part.
However, Ulster Unionist Party leader Robin Swann has already decided to "stand firm" in his opposition to an Irish language act, according to the front page of the News Letter.
It reports a BBC interview in which Mr Swann said he has no problem with promoting the language but it "has to be without" legislation.
'Embarrassing climbdown'
Another language row makes the front page of the Irish News, after the DUP's Sammy Wilson called Taoiseach (Irish Prime Minister) Leo Varadkar a "nutcase".
Mr Wilson made the remarks in an interview with Politico, premising it by saying the DUP always believed the Irish government would be its "biggest ally" in Brexit negotiations.
He added that "since this nutcase Varadkar has taken over things have all changed".
The Irish News says Mr Wilson was later "forced into an embarrassing climbdown" and issued a statement saying he regretted his choice of words.
Another "right bust-up" in Anglo-Irish relations shares the front page and it has Westminster in a bit of a spin.
A sculpted bust of Oliver Cromwell, located in a stairwell in the House of Commons, has been repeatedly turned on its plinth and made to face the wall, like a naughty schoolboy.
'High-jinx'
It reports a claim that a "shadowy cell of MPs" is suspected of spinning the former Lord Protector, in an apparent protest at his conduct in Ireland.
The paper says Cromwell is "reviled in Ireland as the Butcher of Drogheda".
His tenure included the massacre of hundreds of Catholic civilians at Drogheda and Wexford in 1649 and his legacy is sharply divisive.
However, the Irish News says the parliamentary "high-jinx" has been brought to an end after a "please do not touch" sign was erected by Westminster officials.